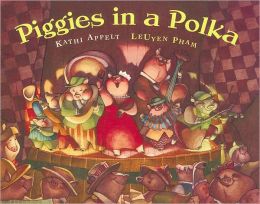 Image from BarnesandNoble.com
Once a year all the piggies gather for a hootenanny. In the red barn under the yellow-bellied moon the piggies dance to polka tunes. The band, complete with banjos, trumpets, and even a kazoo, is lead by Porcina, the "peachy-keen soprano." The piggies dance all night, stomping their feet and do-si-doing. All too soon Porcina sings the last song, ending with a "Whee whee whee" as she blows kisses and sends the piggies on their way. As the piggies drive home to their nooks and crannies, they "are a-dreamin' / of next year's hootenanny."
Appelt's rollicking rhyming text is full of musical merriment. The rhymes trip off the tongue with ease and incorporate a rich vocabulary of dance and music terms. Movement is woven into the text, as well as the illustrations, and the rhythm of the book sets your toes a-tapping. The illustrations, which were created with a combination of watercolors, colored pencil, and digital media, are lush. Pham uses a geometric style that creates a joyful atmosphere. The group scenes are delightful and the colorful lanterns cast a warm glow over the dancing piggies.
For a pig themed storytime, pair this with other porcine books, such as
Olivia
,
The Three Swingin' Pigs
,
Pigsty
, or your favorite version of the Three Pigs story (My current favorite is
The Three Little Javelinas
). Follow up with some piggy rhymes and songs, such as
Boogie Woogie Piggy
,
Five Little Piggies
,
I'm a Little Piggy
, as well as the classic,
This Little Piggy
.
Discuss the different reasons people (or pigs) dance. Do you dance because your happy, sad, angry, or nervous? How would you dance differently for each of these emotions? You could play music for each of these emotions and encourage kids to demonstrate.
Play music that features the instruments mentioned in the story: banjo, trumpet, fiddle, etc. How are the sounds different or the same? Talk about the different ways musicians produce music from their instruments, using their hands, mouths, a bow, etc.
-Amy