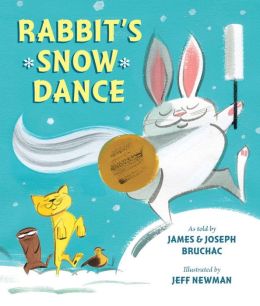 Image from BarnesandNoble.com
This story takes place long ago when Rabbit had a long and beautiful tail. Unfortunately, Rabbit did not have patience as long as his tail. In fact, it was very short indeed. So when Rabbit wished it would snow so he could hop upon the snow and reach the tender leaves of the trees he wanted it and he wanted it right now. Even though it was summer, Rabbit still wanted snow and he knew he could make it happen. He had a special song he would sing while dancing with his drum that always brought the snow. As Rabbit ran through the forest to find his drum he chanted, "I will make it snow, AZIKANAPO!" The other animals were worried, they weren't ready for winter and snow, they needed to gather more food and finish preparing. But Rabbit didn't care. With drum in hand, Rabbit began his snow song and dance:
"EE-OOO!"
Thump! Thump!
"EE-OOO"
Thump! Thump!
"YO, YO, YO!
YO, YO, YO!"
The snow began to fall, but Rabbit wasn't satisfied, even when it reached the bottom branches of the trees. What happened when the snow reached the tops of the trees? What happened when the summer sun came out and melted the snow? Most important of all, how did Rabbit lose his long, beautiful tail?
The Bruchacs have crafted the text of this porquoi tale to be perfect for a read aloud. Rabbit's repetitive refrain, "I want it, I want it, I want it right now!" along with his songs are entertaining and engaging. The story has a quick pace from page one and does not slow until the conclusion that explains two natural phenomenons: why rabbit's tail is so short and why pussy willows resemble rabbit fur. Newman's illustrations, created with watercolor, gouache, and ink are bold and colorful. Characters are created with flowing brush strokes and all the illustrations have a retro look to them. Newman skillfully uses paint spatters to mimic falling snow and blends colors to add texture. The facial expressions and body language of the characters, especially Rabbit, serve to develop the personalities of the animals, even those only featured in one illustration.
The only drawback of this book is that it does not include an author's note citing sources. The title page calls this "a traditional Iroquois story," but there are several tribal nations within the Iroquois and it is not stated if this book is based on a story told in one or all Iroquois nations. For source information from Joseph Bruchac and a cultural analysis of the text and illustrations, check out
Debbie Reese's post
on the American Indians in Children's Literature blog.
When you read this book, invite the audience to join in on Rabbit's songs. You might even want to teach the songs before you read the story and for adults you can write the words on a whiteboard. Get kids up and moving by having them thump their feet along with the song.
Use this book as part of a storytime about winter and/or snow. Try pairing it with other wintery titles, such as
Brrr!
,
Extra Yarn
or
Over and Under the Snow
.This is also a great time to discuss winter hibernation. Discuss the animals mentioned in the book. Do some of these animals hibernate? What are some of the other ways animals prepare for the cold and snow of winter?
Follow up by making some rabbit tails. If you have lots of extra yarn, make
pom-pom tails
. The instructions use white yarn, but I think it would be fun to make multicolored rabbit tails (and a great way to use up yarn scraps). Or you can glue some
cotton balls onto a small paper plate
. Either way you'll want to attach a string on either side of the tail so kids can tie it around their waist.
-Amy