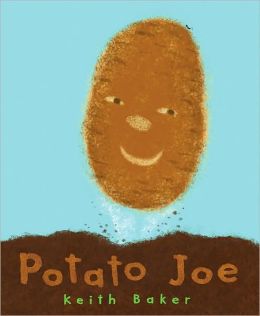 Image from BarnesandNoble.com
Based on the classic, One Potato, Two Potato nursery rhyme, the potatoes in this book count themselves out from one to ten and then back down again. The potatoes are just so excited to be out of the ground! In bouncing rhyming text the spuds "ro-de-O!" and "do-si-do" with their friends, Tomato Flo and Watermelon Moe. All too soon it's time to roll back into the garden and underground where potatoes grow.
All the rhyming text in this energetic book is spoken by the potatoes, either solo or in a rousing chorus, and presented in large speech bubbles. The font is large and the color of the text changes from bubble to bubble. Each page features only a handful of words, keeping the tempo of this book lively. Although the book lacks a plot, it doesn't matter because the potatoes keep on celebrating and rhyming in sunshine or snow, piled high or piled low. The illustrations were created in Photoshop and feature ten smiling potatoes with lively eyes and button noses. The tone of the book is welcoming and this is reinforced by the use of soft edges and light texturing. Movement is emphasized with swirling white lines. Keep your eyes open for the small black ant that Baker has hidden in nearly all the illustrations. Other creatures can be seen in various pictures, including spiders, caterpillars, and ladybugs.
Follow up with some potato crafts. Make
potato stamps
or your own
homemade Mr. Potatohead
. If you're reading this book at home head to the kitchen to make some delicious potato based foods, like mashed potatoes, baked potatoes or french fries.
If you like this book, check out
Baker's other books
, especially Big Fat Hen and Hickory Dickory Dock, which are also based on nursery rhymes.
-Amy