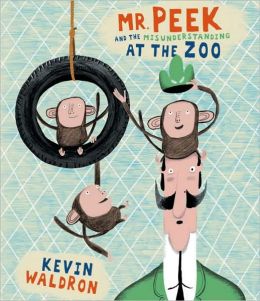 Image from BarnesandNoble.com
One morning at approximately 9am Mr. Peek put on his favorite jacket to do his zookeeper rounds. But he noticed the jacket was too tight, so tight that one of the buttons popped off! This puts in Mr. Peek in a horrible mood as he walks about the zoo checking on each of the animals. He berates himself for eating bad food, not fitting into his jacket, sweating, becoming old and wrinkled, and many more complaints. Unfortunately, the zoo animals think he is scolding them and this puts them in a horrible mood as well! The elephants are distraught thinking about their wrinkles and the penguins are worried about the bad food they supposedly ate for breakfast. But then Mr. Peek turns a corner and meets his mischievous son, Jimmy, who is wearing a very large zookeeper jacket, "You have MY jacket on, Dad!" Mr. Peek is very relieved. He skips as he does his afternoon rounds, complimenting himself and the animals as well. He is glad to see the animals looked happier too, they seemed a bit glum during morning rounds. All is well until Mr. Peek realizes his keys are missing…
The humorous text of this story is printed in easily readable, but chaotic fonts that convey the jumbled state of Mr. Peek's mind. Waldron uses size to emphasize important words. Dialogue in quotation marks tends to swirl and weave through the pages, while descriptions remain (mostly) stationary. The illustrations, created with digital media, are stylized and modern. Waldron's use of color, exaggeration, and shading create a graphic design atmosphere. Mr. Peek's absurd assumptions are supported by his slightly exaggerated, ridiculous appearance; His angled mustache sticks out below a gigantic nose and his belly juts out over impossibly long, skinny legs. Waldron has cleverly hidden the source of all the mischief, young Jimmy, in nearly all the illustrations. Don't miss the endpapers, which feature a beautifully designed map of the Peek Zoo.
Use this book to start a discussion on assumptions, gossip, or jumping to conclusions. You could also discuss the power of words and how they can have an impact on others even if you didn't mean them too. Finally, this is a great book to read if your child has a bad start to a day. Sometimes you just need something to turn your day around.
Craft a zookeeper
with a brown paper lunch bag and some paper shapes. I wasn't able to view the instructions for this craft, as you have to be a subscriber to the site, but judging by the picture you would want to pre-cut hats, arms/hands, heads, overalls, etc. and add goggly eyes. Make the craft faster/easier by gluing sections, such as hands to arms and hats to heads. To make the zookeeper look more like Mr. Peek omit the overalls and instead draw a vertical line to create the legs of his green pants. Add a white oval for his shirt and either draw or glue on his black tie. Draw or glue six buttons to the front of his jacket, as illustrated in the book.
-Amy