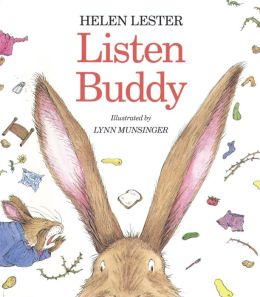 Image from BarnesandNoble.com
Buddy was a rabbit with great big ears. His father had a beautiful big nose and a wonderful sense of smell. His mother had beautiful big teeth and could chomp carrots with the best of them. Unfortunately, Buddy's beautiful big ears did not make him a good listener. Buddy got very distracted and so he just didn't listen. His parents asked him to bring some squash home from the market; he brought a basket of wash instead. When they sent him for tomatoes, he came home with potatoes. His parents tried everything, talking louder, softer, standing right in front of him, but nothing seemed to work. One day Buddy's parents gave him permission for his first long hop alone. He was so excited he didn't listen to their warning, "At the end of the road, there are two paths. The path to the left will lead you around the pond and back home. But the path to the right will lead you to the cave of the Scruffy Varmint." At the end of the road Buddy hopped right. Right into the Scruffy Varmint! Will Buddy survive his encounter with the snarling, mangy Scruffy Varmint or will he be made into bunnyrabbit soup?
The message of this rollicking tale is that listening is important. Lester's text is a mixture of snappy dialogue and fast-paced narrative, which keeps this book from sounding teachy-preachy. The characters are depicted humorously in the text and illustrations and the exaggerated results of Buddy's lack of listening will elicit many a giggle. Munsinger's illustrations are brightly colored and pen and ink lines provide definition and detail. The anthropomorphic animals are dressed in solid colors and much is conveyed with facial expressions and body language. For all his faults, Buddy is an endearing protagonist and Munsinger never misses an opportunity to incorporate Buddy's big ears into her compositions.
Practice listening skills by playing Simon Says, which you could rename Buddy Says. Tie the game into the story by asking kids to do things like hop like a bunny, twitch your ears (use your hands as ears), wiggle your nose, pretend to eat a carrot, etc. Telephone is another fun game to play after reading this book. If you have a large number of kids, split into smaller groups of 10 or less there's less time to get restless waiting for a turn. It's easiest to control the content of the messages if you are the one to start each round. Try using sentences from children's books, songs, or nursery rhymes.
I'm a big fan of reader's theater and was happy to find a
script
for this book for 10 readers adapted by Jill Jauquet.
Thanks to Corinne for bringing this book to my attention!
-Amy