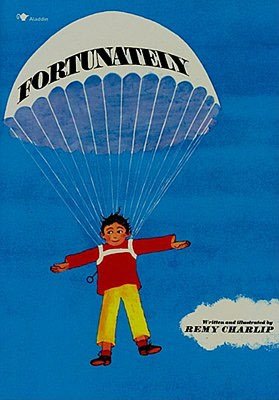 Image from BarnesandNoble.com
Ned is an extremely lucky or unlucky person; it all depends on how you look at it. He's very fortunate to be invited to a surprised party…unfortunately the party is in faraway Florida and Ned is in New York! Every step in Ned's journey to the party is riddled with flip-flopping luck. His friend loans him an airplane, but the motor explodes. He lands safely in the water, but there are sharks! Finally, Ned arrives at the party. "And fortunately the party was for him, because fortunately it was his birthday!"
Originally published in 1964, this book humorously looks at good luck and bad luck. The text is narrated in the third person and follows a set pattern throughout the book. The illustrations are simple. Each two page spread features one sentence starting with either "fortunately" or "unfortunately." Fortunately pages are illustrated in bright colors while the Unfortunately pages are rendered in grayscale. Ned never says a word, but he's an endearing protagonist in his orange shirt and yellow pants who manages to narrowly escape death time and again.
There's drama in each page turn, so make sure to use the anticipation of a bloody and painful death to your advantage. Experiment with drawing the word out, "foooor-tunately," saying each syllable, "for-tu-nate-ly," or saying it quickly as you turn the page to keep the momentum. You can also invite kids to join you in each "fortunately" or "unfortunately."
Use the fortunately/unfortunately format to write or tell a story. You go around a circle and have each child make up the next line of the story. Older kids can write down their stories in small groups. You can give all the kids the same beginning to start from and ending to work toward or you can give them the freedom to wander where they will.
Shout out to Sean, who didn't just tell me about this book, but put a copy into my hands as I was walking out the library doors.
-Amy