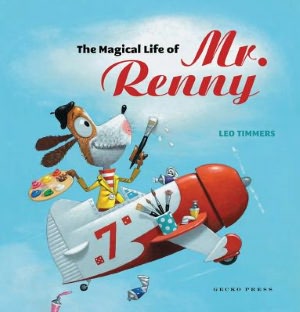 Image from BarnesnadN
Mr. Renny is such a good painter that everything he paints looks just like the real thing. But no matter what he paints, no one wants to buy his work at the market. Everyone flocks to Rose's fruit stall instead. If only Mr. Renny could eat the apple in his painting, then he wouldn't be hungry. POOF! A stranger in a bowler hat appears, snaps his fingers and an real apple tumbles out of the painting, "Take a bite and all your paintings will come to life." And POOF! The man is gone. Mr. Renny bites into the apple and all his paintings spring to life! Mr. Renny is overjoyed. He starts small, just painting what he wants to eat, but then his wants become bigger. He paints cars, cruise ships, swimming pools, blimps, and a huge mansion. He's never satisfied because he's always thinking of his next painting. Then one day Rose from the market pays him a call. She wants to buy a painting. But he has no paintings to sell because they all come to life. "So you're no longer a painter? What a pity, Mr. Renny," and Rose leaves. What should Mr. Renny do? Is he still a painter if he has no paintings to show or sell? Are real objects the same as painted ones?
Originally written in Flemish and published in Belgium, this book is a meditation on art, reality, and materialism wrapped in a cartoonish adventure. The pacing is lively and the translation is well done. Timmers is obviously paying tribute to the surreal painter, René Magritte. Mr. Renny's painting of an apple and the mysterious and magical stranger were clearly inspired by Magritte's paintings. In addition, the story begins with the reality bending words, "This is not an apple," beneath an illustration of a bright green apple. The painted illustrations are bright and bold and the big-headed, bubble-eyed characters are playful and quirky. The compositions are top notch and there is much to be discovered in the details.
For younger kids, use this as part of an art or painting themed storytime. Try pairing it with
I Ain't Gonna Paint No More!
,
Think Big
or
Green
. For elementary aged kids, use this book as an introduction to René Magritte and other surrealist painters. Bring in lots of non-fiction books (this is a great time to pull out those biographies) as well as more picture book titles, such as
Dinner at Magritte's
or
I Spy: An Alphabet in Art
.
The
Extra-Edu section
of the Royal Museums of Fine Arts – Magritte Museum has some wonderful resources on Magritte specifically geared towards children and teens.
You'll want to create some art of your own after reading this book. It can be as simple as asking kids to draw or paint a food they would love to eat or you can delve into surrealism with one of these projects. The ArtSmarts4Kids blog has instructions for creating your own Magritte inspired
artwork using two photographs
of the same scene taken in different lights. If you're working with older kids (upper elementary and up), have them create an
Eye for Magritte
as outlined by Kathy Barbro. For more activities and art projects, check your local library for
Imagine That!: Activities and Adventures in Surrealism
by Joyce Raimondo.
If you like the big-eyed animals in this book, check out
Timmers' other titles
, which also feature these whimsical creatures often riding in cars or other vehicles.
-Amy