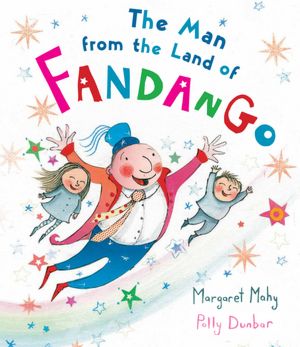 Image from BarnesandNoble.com
"The man from the land of Fandango / is coming to pay you a call…"
In playful rhyming verse Mahy extols the magical virtues of the mysterious man from the land of Fandango. He can change shapes, make animals dance, juggle "with jelly and jam in a jar," and even walk on the ceiling! But you better be at home when he calls, because "he only appears every five hundred years!"
The rollicking rhyming text of this story, one of the last written by the late Mahy, bounces along and trips off the tongue. There is a chorus that is repeated with slightly different words highlighting the sound of a different consonant each time, "And he bingles and bangles and bounces." There is no conflict in the story, instead it's a nonsensical adventure filled with delicious foods and musical animals. Dunbar's illustrations, a mixture of watercolor and collage, are bright, whimsical, and celebratory. Various techniques are used to add texture to the illustrations, such as spattering paint, cut papers, and rubber stamps. The man from the land of Fandango is mischievous and jolly, with rosy red cheeks, a tri-colored jacket, and a polka-dot tie. Although they are not mentioned directly in the text, the illustrations feature a small boy and girl who follow the man from the land of Fandango on his celebratory journey.
As you read this book you can stop to point out words that rhyme or some of the instances of alliteration. After you read the book you can flip back to a part of the rhyme that features the sound of a particular letter. Ask the kids to tell you what sound the letter makes ("T" for example) and then have them repeat the line of verse after you ("And they tingle and tongle and tangle / Till tomorrow turns into today). Ask them to tell you which words begin with the T sound. This is a great way to promote letter knowledge.
It would be fun to pair this book with some of Edward Lear's nonsense poems. My favorite is
The Quangle Wangle's Hat
, which can be read aloud with no visuals or you can use a picture book version, such as
the one illustrated by Louise Voce
.
-Amy