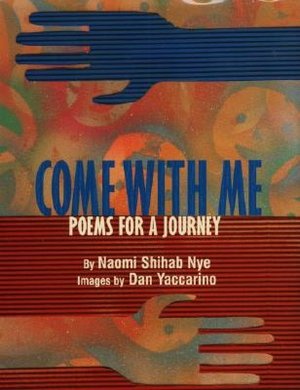 Image from BarnesandNoble.com
The many facets of traveling are explored in the 16 poems in this collection. Nye's non-rhyming poems peel away layer after layer of meaning to reveal insightful truths about planning, going, and returning from a journey. Some journeys take the reader across space and time, while others look at journeys of the heart and soul. Some journeys involve great movement, while others are stationary. Yaccarino's illustrations create a stylistic world that visually represents the contradictory, yet complementary nature of the poems.
The poems in this collection will have readers taking a closer look at the journeys, big and small, they take every day. Nye is a very observant poet who is able to convey large ideas and thoughts in small actions. Her poems urge readers to listen harder, look closer, think deeper. Many of her poems are empowering and uplifting; they acknowledge difficulties, but illustrate the importance of forging ahead with confidence. Yaccarino's collage and mixed-media illustrations are more textured and abstract than his usual picture book style, which uses solid shapes and bright, smooth colors. Instead the visible brush strokes are irregular and loose. Yaccarino uses stencils and spattered paint to create silhouettes of people, airplanes, covered wagons, and other shapes. Corrugated cardboard, paper, and wood with the grain showing are used in the illustrations.
I recently discovered
Nye's work
through the YA novel,
Habibi
, which was assigned reading for one of my graduate courses (review on my class blog soon to follow). Even in her novel her unique way of viewing the world and expressing it through language is apparent. I immediately rushed to my local library and checked out all things Nye from the stacks.
Most poems target an elementary school aged or older audience, however poems such as "Somebody's Story," "Where I Got My Map," and "Come with Me" could easily be shared with a preschool or kindergarten audience.
If you are doing a storytime or unit on traveling, try reading the book from cover to cover or incorporating individual poems throughout. Good stories to pair are
All the World
and
Along a Long Road
.
Here are some ideas for sharing specific poems out loud:
Bring in two maps to use as props when you read "Torn Map." As you read the poem, tear the two maps in half and tape them together. You can follow up by creating collages from maps. Check your local thrift store or AAA for old maps.
Turn a map into an envelope
and write a letter to a person you wish you could "tear a map and be right next" to. This poem would pair nicely with the book,
Same, Same but Different
.
When you read the poem "Suitcase" bring in an old fashioned suitcase and lay it with the handle and lock towards you. Hide a flashlight or touch light inside the suitcase so that it looks as though the suitcase is glowing with secrets. You can open it at the beginning of the poem and close it at the end or vice versa. Either way, it's more magical if you don't let your audience see inside the suitcase.
Use the repeated lines of "Somebody's Story" to incorporate a call-and-response interaction with your audience. It's also a great candidate for a choral reading.
Do a poetry reading that alternates Nye's poems with Lee Bennett Hopkins' poems from
City I Love
. You could even alternate lines of Hopkins' "City I Love" with Nye's "Where are We Going?" for a poetic mash-up of two odes to cities.
-Amy