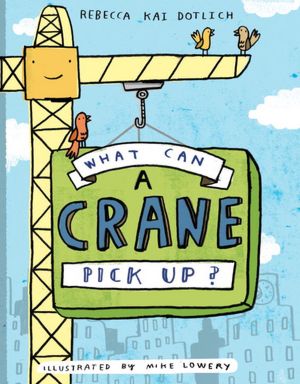 Image from BarnesandNoble.com
This lively rhyming book is built around a single question: What can a crane pick up? The answer: lots of things! Trucks, railroad cars, airplanes, trees, submarines, even a cow! "Cranes pick up— that's what they do!"
The energetic text is like a snowball gaining momentum downhill as Dotlich expands from ordinary (trucks, steel) to extraordinary cargo, such as cuckoo clocks, cowboy boots, and "boxes and boxes of underwear." Although the rhyming could be smoother, readers will enjoy the call and response nature of the book. The illustrations, created with pencil, silk screen, and digital techniques, are brightly colored and outlined in irregular, thick black lines. The cartoonish pictures are very happy and nearly all the vehicles have dot eyes and smiling mouths.
After you read this book ask kids to come up with a list of other items a crane could pick up. Have them draw pictures to go along with their suggestions.
After reading this story kids will want to play with a crane of their own to see what it can pick up. You can make a very simple
crane with just tape, string, and magnets
as posted on the Spaghetti Box Kids blog. If you're looking for a rainy day craft to last a few hours, try making a
crawler construction crane
out of milk cartons and cardboard tubes. Either way, make sure to have lots of cargo for the cranes to pick up. Try small household objects like cups, coins, forks, spoons, pencils, etc.
-Amy