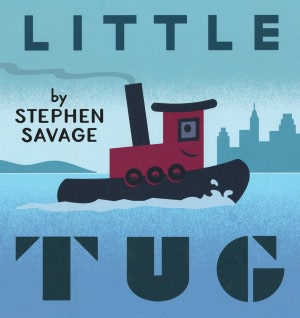 Image from BarnesandNoble.com
Little Tug may not be the tallest, fastest, or biggest ship in the harbor, but when the taller, faster, bigger ships are in a bind, it's Little Tug who lends a hand pushing, pulling, and guiding. At the end of the day when Little Tug is all worn out the other ships tuck him in, sing him a lullaby, and give him hugs.
The brief, repetitive text of this charming book makes it a wonderful choice for a baby or toddler storytime. Although the plot is simple and lacks a major conflict, small readers will identify with Little Tug, who works so hard to be helpful despite his size. The illustrations use bold shapes and glowing colors to bring the boats to life. I especially love the many ways Savage plays with the water to create visual interest. Sometimes the water is choppy, other times it smoothly reflects the outlines of the boats. Additionally, the water is a variety of colors. It reflects the pink of a glorious sunset, the white of big puffy clouds, and at night it glows blue-purple.
Fill a kiddie pool with water to make a harbor. Bring out toy boats or make some of your own. If you are working with older kids, try making
milk carton tug boats
. You can make the craft faster if you precut the milk cartons and other small pieces (which also removes the need for scissors).
-Amy