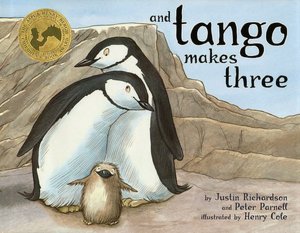 Image from BarnesandNoble.com
Central Park Zoo sits in the middle of busy New York City. Every day human families of all kinds visit the zoo to see families of animals. In addition to furry red pandas and cotton-top tamarins, the zoo is home to a number of chinstrap penguins. At a certain time every year the girl and boy penguins begin pairing up. All except for two boy penguins named Roy and Silo, who do everything together. Like the other penguin couples they walked together, swam together, and even sang to each other. When all the other penguins make nests of stones, Roy and Silo watch and make one too. They even find an egg-shaped rock and wait for it to hatch, but nothing happens. This gives Mr. Gramzay, the penguin keeper, an idea. He puts an egg that needs to be cared for in the nest. Roy and Silo know just what to do, they take care of the egg for weeks until the egg hatches and a fuzzy baby penguin is born. Mr. Gramzay decides, "We'll call her Tango, because it takes two to make a Tango."
The text of this touching story of friendship and love is written in a conversational style. Richardson and Parnell steer away from scientific jargon. Instead they use a kid-friendly, but not patronizing, vocabulary to explain the behaviors and mating rituals of the penguins. The watercolor illustrations realistically depict the inhabitants of the Central Park Zoo. The soft edges of the watercolor washes create a visually appealing background for the detailed, anatomically correct animals. The penguins are not anthropomorphic, yet Cole has captured looks of curiosity, concern, and contentment on the birds' faces. Several pages feature smaller illustrations that show the passage of time, such as the page that features Tango hatching out of her egg.
There seem to be hundreds of picture books about penguins, so pick a few of your favorites for a penguin-themed storytime. My current recommendations are
Tacky the Penguin
,
Turtle's Penguin Day
or
Sergio Makes a Splash.
Bring in non-fction books about penguins. Look at pictures and talk about the many different kinds of penguins.
Use this book for a storytime about families and pair it with other books that feature different types of families. Read
Fred Stays with Me
and talk about children who have parents who are separated/divorced/remarried. Or read
All the World
and look at all the different kinds of families of all sizes and skin colors depicted in the illustrations. Discuss the similarities between the families. Point out that love for one another is a big part of all the families in these books.
-Amy