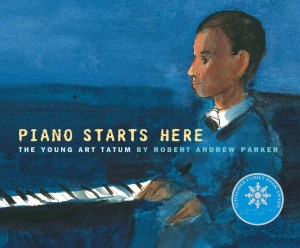 Image from BarnesandNoble.com
Before Art Tatum became one of the most celebrated jazz pianists he was a boy in Toledo, Ohio. Art was born with severely limited vision, so instead of playing outside he would stay inside playing the piano in the living room. As Tatum grows older his gift for music earned him recognition. First, he played at church, at the YMCA, and on assembly days at school. Soon after, he played piano in bars and nightclubs and eventually on the radio. As Tatum's fame grew he traveled far from his family and friends in Toledo, but "No matter where I am, when the room fills with my music, I remember all the people who helped me. The people I love."
Written from Art Tatum's perspective the text of this picture biography is unassuming and evocative. Tatum's observations in the text of what isn't said is just as telling as what is said in the well-written dialogue. Although the picture book format necessitates condensing Tatum's life, Parker has included specifics and has filled in the gaps where knowledge of Tatum's childhood is unknown. For instance, he includes the names of the people in Art's community and the names of popular songs Tatum played on the piano, which helps the story come to life. The watercolor illustrations, loose and colorful, are framed by the white border of the page, making them seem like snapshots in a scrap book. Black line work is layered over soft edged brush strokes of blended colors creating a detailed, yet blurred world. More information on Tatum's life and a bibliography are included in the author's note at the back of the book.
This book won the
Schneider Family Book Award
, which honors books that embody "an artistic expression of the disability experience for child and adolescent audiences" as well as being named a ALA Notable Children's Book. So this is a great book to read to start a discussion on blindness. In the text, Parker writes about Tatum's poor vision in a matter-of-fact fashion, "But because of my bad eyes, day and night, dark and light, don't really matter to me. Not the way sound and smells do – piano notes, streetcar bells, corn bread baking in the oven." I am by no means an expert in this field, so I encourage you to check out the
Blind Children's Resource Center
and the
Monroe County for Women's Disability Network
websites for information on how to approach this topic with vision-impaired and sighted children.
Play this video of
Tatum playing Dvoark's Humoresque
and then compare and contrast it with a
classical version
of the piece (the official title is Humoresque Number 7 in G Flat Minor). Some kids may have a difficult time sitting still to listen to music, so allow them to dance to the music or put out art supplies so they can create while listening.
-Amy