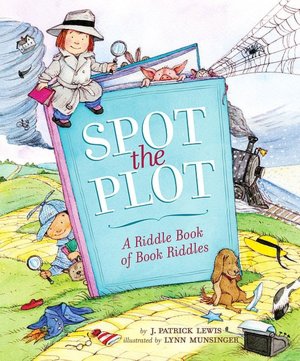 Image from BarnesandNoble.com
The thirteen riddle poems in this book give readers clues to the titles of classic children's books. From
Tacky the Penguin
to
The Polar Express
,
Goodnight Moon
to
Madeline
follow two book young book detectives and their canine companion as they sort through the textual and visual evidence. Humorously illustrated by Munsinger, these poems will have readers shouting out the names of their favorite books and characters.
Each two page spread is devoted to a different poem/book and features the young detectives (a boy and a girl), their dog, and a giant book. Characters and elements of each story peek and tumble out of each book and the landscape changes to reflect the story. For instance, the boy and girl examine a blue waistcoat while in the garden of Farmer McGregor and they pull yards and yards of hair from a book that resembles a tower. Some of the poems are just a handful of words while others are a few stanzas. Although most of the poems rhyme, they take different forms such as the riddle about
Click, Clack, Moo:Cows That Type
, which is in the form of a letter to the farmer from the cows. The answers, including author and illustrator, are included on the last page of the book.
This book is best enjoyed if kids are familiar with the stories presented in riddle form. Prep by reading the thirteen books, although most kids (but certainly not all) are familiar with Cinderella and Rapunzel, so you might be able to skip those. Some books, like
The Wonderful Wizard of Oz
and
Charlotte's Web
are longer and you may want to read selected sections.
To make the riddles more difficult to guess don't show the illustrations. If the kids can't guess it read it again and show the picture. Alternatively show the kids the illustration first and see if they can guess the story before you read the poem.
Talk about the types of clues in the poems, such as the setting, characters, modes of transportation, time of day, and major plot points. How many clues did can be found in a single poem and illustration?
Have kids write a riddle poem about a favorite book and encourage them to share it with the group. You can start simply by having kids write a list of 4-5 clues about the book. These can then be developed into a riddle. Poems can also be illustrated to include visual clues as well.
Fold a piece of cardstock in half or use blank note cards and have kids write their riddle on the front and the answer on the inside. These can then be put up on the walls of the library for other readers to guess.
For more discussion questions and activities, check out the
reader's guide
written by Patrick L. Yercich.
-Amy