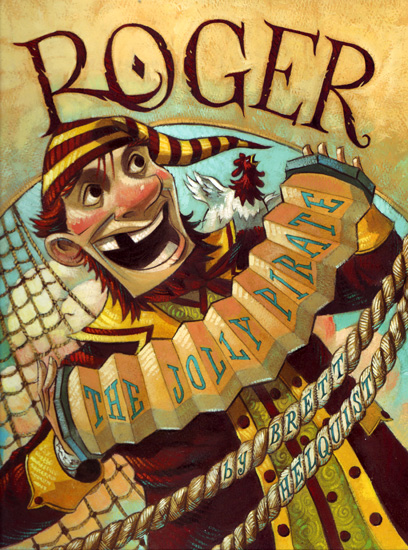 Image from BrettHelquist.com
Before Black Beard and Long John Silver there was a pirate named Roger. Unfortunately, he was a terrible pirate. He was clumsy and forgetful. He didn't scowl he smiled and he didn't growl he grinned. The other pirates called him Jolly Roger and it wasn't a term of endearment. One fateful day the pirates are attacked by the fearless Admiral. As usual Roger is told to stay in the ship's hold until the fighting is done. Roger wants so badly to make the other pirates like him, so he decides to bake a cake! He finds a big iron pot (that looks suspiciously like a cannon) and fills it with everything he can find (did I mention that Roger wasn't a very good cook either?) and then he lights the handy wick attached to the pot (what could be more convenient?) and waits for it to bake. Up on deck, the pirates are close to surrendering when there's a huge explosion and Roger, covered with soot and flour, is thrown out of the hold like a flying apparition! The Admiral and his men abandon ship and Jolly Roger is now a hero among his shipmates. He's still a lousy pirate, but his shipmates don't care. They even make a special flag in his honor – the Jolly Roger.
The text, written in third person, is great for reading out loud and includes new vocabulary words, such as "justice," "terror," "surrender," "scowl," and "vessel." The pace is brisk and readers will be invested in Roger's desire to be liked by his shipmates. The illustrations, which seem to be a combination of painting and hand drawn linework, are detailed and precise. Most of the book takes place on the pirate ship out at sea and Helquist takes full advantage of the clouds, sky, and water in his compositions. Make sure to check out the gorgeous endpapers, which features the pirate ship at full sail. Helquist also includes the lyrics and sheet music for The Ballad of Jolly Roger on the back papers. The six kid-friendly verses, sung to the tune of
What Shall We Do With a Drunken Sailor?
, tell the story of Roger's heroic act.
I'm a big fan of Helquist's illustrations (you might recognize his style from illustrations he's done for the covers and chapter headings for
The Series of Unfortunate Events
and other
chapter books
), so I was excited to find this book at the library!
Follow up by making your own
Jolly Roger Flags
. Chica and Jo use dowel sticks, but my family always used disposable chopsticks when making flags. You have to make the flags slightly smaller, but it's much cheaper than buying dowel. You could also have kids design their own pirate flag, which would make an eye-catching display. You can also use the Jolly Roger skull and crossbones on other piratey items, like
newspaper pirate hats
.
Empowering Writers has a short
lesson plan
on using this book to learn how to summarize a story.
-Amy