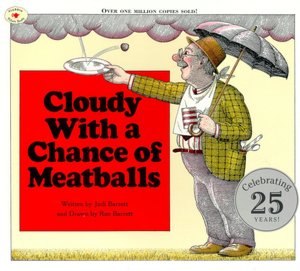 Image from BarnesandNoble.com
One night, after a pancake flies off the stove top and onto Henry's hair, a grandfather tells his two grandchildren the tall tale of the tiny town of Chewandswallow. Chewandswallow had everything most small towns have, stores, houses, a school, people, dogs, cats, but what it didn't have were food stores because they weren't needed. Instead of buying it off the shelf, food arrived three times a day by weather. The townspeople took their plates and cups everywhere so they would be ready if it rained orange juice and eggs for breakfast or frankfurters in rolls followed by a drizzle of soda for dinner. All was well in Chewandswallow until the weather started getting worse. The food tasted horrible and became dangerous. The school got buried under a giant pancake and people got lost in the thickest pea soup fog in history. What are the townspeople to do?
The Barretts (a husband and wife team) have created a fantastical world that never ceases to intrigue readers. I used to dream about eating strawberries as big as apples, so Chewandswallow seemed like a paradise to me! The humorous text is great for a read aloud and is set off nicely in solid colored text boxes. It addresses the questions that kids would have about living in such a town. What would you do if you got hungry between meals? And what happens to all the leftovers on the streets? The illustrations are often broken up into comic strip-like panels and use intricate line work and hatching to create a cartoonishly whimsical world. The book begins in black and white, but when Grandpa begins telling the kids about Chewandswallow color begins to glide over the pages like butter melting on a skillet.
Before you read this book ask kids if they ever think the clouds in the sky look like food. Maybe marshmallows or mashed potatoes? After you read the book have them write a weather forecast for Chewandswallow for breakfast, lunch, and dinner.
You can choose your favorite weather craft or if you're up for a messy craft try one of these crafts using foodstuffs. Instead of gingerbread houses, make houses out of peanut butter and bread slices (check for allergies). You'll probably want to get a stiff, sturdy bread (sorry Wonder Bread lovers) and provide toothpicks to help hold things together. Cook up some spaghetti and have kids spell their names with the
noodles on paper
. Hands will get sticky, so make sure you have wash clothes at the ready. I also like the
food collages
posted on the Art Dish Blog.
If you can't get enough of the town of Chewandswallow, check out the sequel to this book,
Pickles to Pittsburgh
.
-Amy