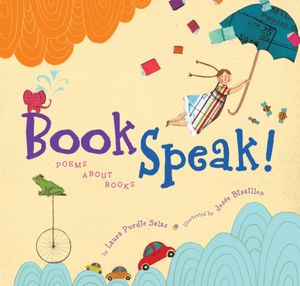 Image from BarnesandNoble.com
In 21 clever poems, Salas celebrates the beauty, humor, joy, drama, and structure of books. The poems are accompanied by colorful and lively collage illustrations. Together poems and pictures urge readers to find a new adventure within the pages of a book.
Salas' poems take a variety of forms from rhyming verse to acrostic. Length also varies, some poems reach across two pages, while others are composed of thirty words or less. I especially love the poems that focus on a specific element of a book, such as the poem in the form of a sales pitch from an index and "The Middle's Lament: A Poem for Three Voices," in which the middle of a book complains to the beginning and the ending. The illustrations are elaborate and witty on some pages, while on other pages they recede to a single image or pattern on the border. Bisaillon incorporates pages of printed text and cursive handwriting into the images, as well as featuring shelves and stacks of books.
Kendra Duckworth
, guest reviewer on the Poetry for Children Blog, suggests using the opening poem, "Calling All Readers," as a storytime introduction.
Read the poem, "Book Plate," and then have kids design a personal book plate. It's even better if you can find a way to give them a book to begin their own library.
The poem, "This is the Book," reminiscent of "This is the House that Jack Built," describes the many people involved in taking a book from idea to finished product. Choose a book and then bring in photographs and information on the people who helped to create that book, from writer to editor, designer to publisher.
After you read the poem, "Conflicted," talk about the conflicts in books the kids have recently read. What would happen if the conflict was removed? What would the story be like?
Encourage kids to write a poem from the perspective of a book or from a character in a book, like Salas does in "A Character Pleads for His Life" and "The Sky is Falling". What happens to characters when they are not being read about?
-Amy