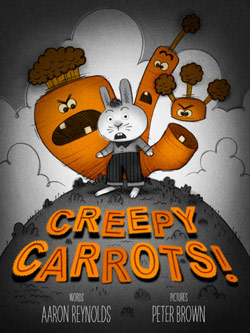 Image from PeterBrownStudio.com
Jasper Rabbit loves carrots, especially the ones that grow in Crackenhopper Field. He eats them before school, on his way to baseball practice, and then again on his way home. Jasper eats them all the time…that is until the creepy carrots start following him. "
Tunktunktunk."
Jasper hears and sees creepy carrots everywhere, but when he turns around to look at them they disappear! After a week Jasper can't take it anymore. So he saws and hammers, digs and builds, until the carrots are contained by a tall fence and surrounded by a moat! No way those creepy carrots will creep on him again! And the carrots? They cheer as well because they know that Jasper Rabbit will never eat them again!
Although "creepy" is in the title, this book isn't really that scary and it has a happy ending (at least for the carrots). In the tradition of oral scary stories, Reynolds' humorous text is written in third person past tense, making this a great book to read aloud. Punctuation is utilized to emphasize words and the sound of the carrots creeping, "tunktunktunk," is hilarious (I mean, if a carrot could creep, why wouldn't it "tunk?"). The illustrations, rendered first in pencil on paper and then composited and colored digitally, have a black and white film noir look to them. Brown uses orange very sparingly and with great effect. The carrots are orange, as well as objects that could appear carrot-like out of the corner of your eye or in the middle of the night. The creepy carrots are ridiculous, with glowing eyes and one or two blunt, square teeth.
Orange is used with great effect in this book, so add this to an orange themed storytimed along with
The Big Orange Splot
.
You can also
cut real carrots into stamps
. Make sure you have a good knife and that the stamps are completely flat or kids will have a hard time stamping evenly. You can use tempera paint or washable stamp pads.
This can be a messy craft, so put plastic on the floor and have wash cloths ready for messy hands.
Set up a creepy carrots photo booth. Make large creepy carrots out of poster board and stick them to the wall. Have kids stand in front of the carrots and make their best "creeped out" faces. They can also hold up the carrots they crafted.
-Amy