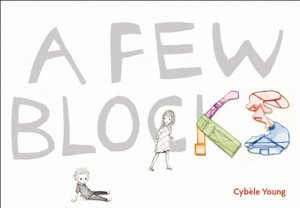 Image from BarnesandNoble.com
It's time for Ferdie and his sister Viola to walk to school, but Ferdie doesn't want to go, "Not now. Maybe never." He has lots of things to do at home, pictures to draw and towers to build. But Viola knows just what to do. She holds out Ferdie's coat and tells him it's a superfast cape! If he puts on his rocket-blaster boots they'll get to school in no time. Off they blast, flying over buildings and streets until Ferdie runs out of rocket fuel. He doesn't want to go to school, "Not now. Maybe never." Good thing Viola has more ideas to propel her reluctant little brother to imagine his way to school! But what will happen when Viola runs out of ideas?
The text, written in third person present tense, is printed in black font on the bottom edge of the page. Most of the text describes the imaginative world the siblings create, but every once in a while Ferdie breaks in with his signature ultimatum, "Not now. Maybe never." The ink, watercolor, and 3D paper collage illustrations are delicately rendered (look for the shadows that show that the images aren't sitting directly against the paper). Viola and Ferdie live in a grayscale world until they begin to imagine, then they are surrounded by wonderful colors contained in shapes that simultaneously represent the city blocks they are walking through and the fantasy world they create in their minds. Within each shape Young uses monochromatic colors and precise line work, which creates a detailed, yet magical landscape. The size of the book and the illustrations make this book best for storytime with a small group.
Before you read the story, show the kids the cover and ask them what they think the book will be about. Talk about the different definitions of the word, "Block." Do they think the kids will be walking a few blocks or playing with a few blocks? Will there be a block shaped obstacle? How about mental or writer's block?
Follow up by making 3D collages. Glue pieces of art foam behind paper to create different layers. You can have pre-cut paper pieces; just don't use anything thinner than construction paper because it will droop. Stack multiple pieces of foam to create more layers.You can have kids create a cityscape or create an abstract work.
If you walk with your children to school, the library, the park, etc. take turns choosing an imaginary adventure like Ferdie and Viola do in the book.
-Amy