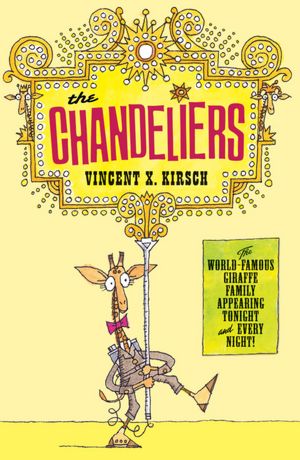 Image from BarnesandNoble.com
Rufus is the younger member of the famous Chandelier family of giraffes. Every night he watches the rest of his family perform in the greatest show in town, until one night when things seem to go just a little bit wrong. Mrs. Daphne Chandelier goes onstage without her parasol, but Rufus brings it to her. Mr. Maximilian Chandelier forgets the words to his monologue, but Rufus reminds him. Rufus makes sure the moon is onstage at the right time and even provides special effects. At the end of the show as they do every night the Chandeliers take bow after bow.
But that night they stopped and turned to the audience and said, "We could not have done it without the wonderful Rufus Chandelier!" And that night, for the first time, Rufus took a bow too.
The text, written in third person past tense is short and direct. The story is simple and nearly without conflict, however the fabulously stylized illustrations more than make up for this shortcoming. With tight line work and busy compositions, the tall Chandeliers decked out in brightly colored, curlicued finery stand out against the painted scenery. Kirsch has chosen an old vaudevillian style theatre, complete with red velvet curtains, scalloped footlights, and glowing proscenium arches. Keep your eyes open for the many hidden visual details in this quirky book, such as the tiny mouse-like giraffe that can be found on every page and the many giraffe shapes hidden throughout the book. I'm an endpaper lover and was thrilled to find that the front papers provide bios, like the ones you find in a theatre playbill, and the back papers show the family leaving the stage door at the end of the night.
I'm a former theatre stage manager, so I love that this book focuses on the backstage elements of theatre. Read it before attending a show and discuss the idea that it takes a lot of people to make a show happen, not just the actors onstage. Use this book for a storytime about the performing arts and pair it with
ZooZical
,
Frank was a Monster Who Wanted to Dance
or
Lights on Broadway
.
-Amy