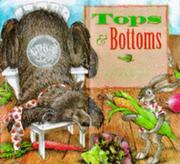 Image from OpenLibrary.org
Based on trickster folktales, this story features a clever hare and a very lazy bear. Bear is rich and owns a great deal of land, but all he wants to do was sleep. His land is barren year after year. On the other hand, Hare has a very large family and no way to feed them. So Hare makes Bear a deal: If Bear let's Hare and his family use his land they will do all the planting, tending, and harvesting and Hare will split the harvest with Bear. Hare let's Bear choose: tops or bottoms of the vegetables? Bear chooses tops, however when the crop is harvested it turns out that Hare has planted nothing but root vegetables! Bear is furious and makes Hare plant again. This time he demands the bottoms. Unfortunately for Bear, Hare plants vegetables with delicious tops. Bear is livid and commands Hare to plant again, but with the stipulation that Bear will get the tops AND the bottoms. Has Bear finally outsmarted Hare? Can you guess what Hare plants this time?
The illustrations of this Caldecott Honor book present a whimsical rural setting. The animals have anthropomorphic tendencies, such as wearing ties, shirts, or shoes. Kids will get a kick out of the variety of ways Bear manages to sleep in his deck chair and the mischievousness of Hare. The illustrations were done on paper handmade from vegetable fibers and this lends a variegated texture to the backgrounds. Vegetables fill the pages in great overflowing heaps. The book is oriented sideways (i.e. it's read top to bottom) and text boxes make it easy to find and read the print. Once the story gets rolling, it follows a set pattern: make a deal, plant, harvest, rinse and repeat. The humorous ending leaves readers with the message that hard work pays off.
Use this as part of a storytime about gardening or vegetables. This is also a great book to feature if you want to focus on vocabulary. Words, including "wealth," harvest," "risky," and "profit," are used in the story and surrounded by helpful context. Take the time before, during, or after to discuss the definitions of these words.
Have the kids help you make two lists, one for tops and one for bottoms. Ask them for suggestions beyond the veggies mentioned in the book for each list. If they can't think of any, throw out the name of a vegetable and ask them to choose top or bottom. Bring in photographs of the vegetables mentioned or illustrated in the story. Paste them to cardstock and have kids sort them by color, size, tops or bottoms. If you print a double set you can also play memory. If you can, bring in real vegetables for the kids to see and touch. The best are the kinds with the tops or bottoms still attached, such as beets or carrots with their leafy tops.
Try out this
paper plate tops and bottoms craft
posted by No Time for Flash Cards. If you don't want to draw your own vegetables, look for an old seed catalog or save the pictures on seed packets.
And once again a big shout out to Carrie for bringing this book to my attention!
-Amy