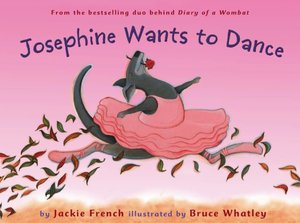 Image from BarnesandNoble.com
Josephine is a kangaroo who loves to dance. All the animals have taught her different ways to dance. The emus taught her to point her toes and she soars with the eagles to the music of the wind. Even though her brother tells her, "Kangaroos don't dance! They jump!", Josephine doesn't care. She wants to dance more! Then one day a ballet company comes to Shaggy Gully. As Josephine watches rehearsals through a window she gets her big break. The prima ballerina has twisted her ankle and her understudy has a splinter in her toe! What to do? Who else can leap so high? Josephine, of course!
This Australian writing/illustrating duo are well-known for creating picture books that feature and celebrate the fauna of Australia (see also
Diary of a Wombat
). In addition to Josephine the kangaroo, the text and illustrations show other animals native to Australia including, emus, brolgas, and lyrebirds. The humorous text, written in third person, is balanced between description and dialogue. Like Josephine, the text leaps and twirls through the painterly illustrations. The illustrations show characters and a few well-chosen props and set pieces against a tutu pink background, which nicely sets off the grey of Josephine's fur.
French and Whatley have created several picture books set in the fictional Australian town of
Shaggy Gully
. Check out the illustrations that show the audience members and you might see a few familiar faces including, the wombat from
Diary of a Wombat
, many characters from
Pete the Sheep
, and two people who I suspect are French and Whatley themselves.
Pair this with other books about Australia animals including
McGillycuddy Could
,
Koala Lou,
Possum Magic
or
Hunwick's Egg
. Have the kids burn off some energy by putting on some music and having them do some jumping dances. Have each child jump and then have the other kids measure the length of the jump.
Bring in photographs and facts about kangaroos to share after you read this book.
National Geographic Kids
is one of my favorite resources. In the story none of the ballerinas are able to leap as high as Josephine. Have the kids guess how high/far a kangaroo can jump (answer: over 30 feet!).
-Amy