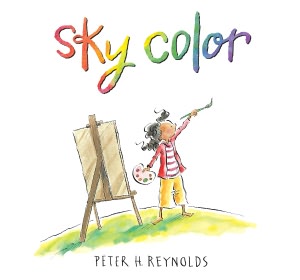 Image from BarnesandNoble.com
Marisol is an artist and everyone knows it. She loves to share her art with others and she firmly believes there is an artist inside every person. So when her teacher announces that the class will be designing and painting a mural for the library, Marisol is overjoyed. She immediately volunteers to paint the sky. But when she gets to the library, she finds there's no blue paint. How can she paint the sky without blue paint? Marisol thinks and thinks about this problem. She thinks as she rides home in the school bus through the orange, yellow, red sunset. She thinks in the morning while waiting for the bus under the cloudy gray sky. When she gets to school, Marisol paints a beautiful sky, no blue required.
Reynold's deftly captures the spirit of Marisol in very a few well-worded sentences a page. The text is concise and written in the third person. Although the story is simple, with just the slightest touch of conflict, readers will find themselves drawn into Marisol's world. The characters and settings are outlined with thick black ink and colored lightly in grays. This neutral background makes the vibrant colors, used only for the sky and for the paints Marisol and her classmates use, sing on the page.
Use this book as an introduction into a discussion on why the sky appears to be blue. Enchanted Learning has a short, informative, and kid-friendly
explanation of why the sky looks blue
.
Bring in photographs of skies of all different colors to share and discuss. You could also bring in pictures of famous works of art with skies that use colors besides blue. Encourage parents to observe the different colors of the sky with their children. This is a great thing to do while taking a walk, riding on the bus or train, sitting in the car, etc.
Best of all, get out some paints and have kids create their own sky paintings. They could also create designs for a mural as Marisol and her classmates do in the book. If you have a big, open wall you can tape some butcher paper (or any paper on a roll) across the wall for the kids to paint.
-Amy