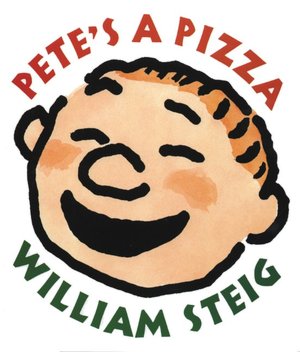 Image from BarnesandNoble.com
Pete's in a horrible mood. He was supposed to go outside to play ball with his friends, but then it rained. Pete's father notices his sons sulking and decides the best way to cheer him up will be to make him into a pizza. So he puts Pete on the table and begins to knead the dough. He stretches it and tosses it in the air. He adds some oil (it's really water) and flour (it's really talcum powder) and then begins adding toppings to the pizza. By the time Pete's father takes the pizza out of the oven (it's really the sofa), it's clear the pizza is anything but grumpy. And what's even better, the sun has come out! So the pizza, I mean Pete, heads outside to find his friends.
Based on a game Steig used to play with his daughter, the text and illustrations radiate the warmth of a loving parent-child relationship. The simple text is printed in all capitals at the bottom of each page. The illustrations, done in Steig's signature pen and watercolor style, are brightly patterns and filled with a fun and funny family.
The title has some great alliteration making this a good addition to a letter P storytime. You can also use it for a lapsit or toddler time. Have parents pretend to make their children into pizzas as you read the story.
I also really love
Omazing Kids Yoga's idea
to use this book as part of a yoga storytime. Scroll to page 2 for a list of pose ideas to go with the story.
Try following up with this
Letter Pizza Craft
. Make it faster by printing the letters and then using a circle punch to cut them out. Or you can print directly onto circular labels. If you have time and want to get a little fancier try making
brown paper wrapped pizzas
. Cut up construction paper to make different toppings. If you have a rainy day to fill at home this is one of those crafts that kids can work on all day. Once you have your pizzas ready have the kids open a pizzeria. They can take orders from other family members. You could even save some pizza boxes and have the kids make deliveries all over the house.
Finish up with a pizza themed song. My favorites include
I am a Pizza
and
That's Amore
(all kids should be introduced to the Rat Pack at an early age in my opinion).
-Amy