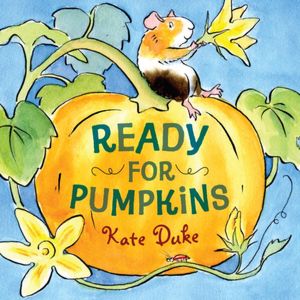 Image from BarnesandNoble.com
Herky, the first grade class guinea pig, knows he is very lucky. He has all the food and water he could want and a classroom full of kids who love to teach him things. But then Herky watches the kids plant seeds and as the days pass the seeds grow into green beans! Now Herky knows what he wants: a garden! Luckily, Herky spends every summer at a farm in the country and luckily he's saved some pumpkin seeds from the class pumpkin carving last year. With the help of his new friend Daisy, the rabbit, Herky plants, waters, and impatiently waits for his seeds to grow into pumpkins. Although he has to go back to the classroom before the pumpkins are done growing, he's very busy with the new first graders and luckily, he knows he can grow more pumpkins next year.
Duke's book is targeted at the lower elementary grades that have had the experience of a class pet. The text is written from Herky's point of view and comments are added in speech bubbles throughout the story. The watercolor, pen, and ink illustrations are realistic and soft. Herky is drawn in Duke's classic guinea pig style (see
Guinea Pigs Far and Near
) and it's amazing how much personality and emotional expression Duke is able to convey with two dot eyes and a wiggly nose. The passing of time matches up correctly with pumpkin planting and harvesting times.
If possible, bring in pumpkins for the kids to cut up and examine. You can go traditional and carve the pumpkins. You can cut the pumpkin up and bake it for a tasty treat. You can roast the seeds and eat them or you can use them for a
pumpkin seed pumpkin craft
or a
"what's inside a pumpkin?" craft
. Grab some orange construction paper for some
paper strip pumpkins
. Or use those paper lunch bags (you know how much I love them!) and make some
paper bag pumpkins
. You could even use regular size brown paper bags if you want to make large pumpkins.
Now that you've got a whole bunch of pumpkins use them to practice counting and patterns. Make a pattern of different size pumpkins and ask the kids to recreate the pattern. Use the pumpkins to practice addition and subtraction. You could even make a large tic-tac-toe boards and you can use two different kinds of pumpkins for X's and O's.
-Amy