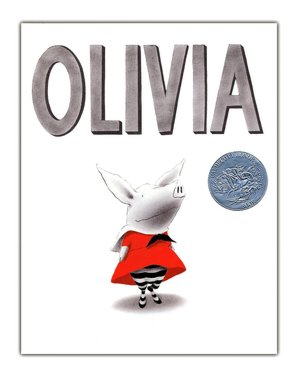 Image from BarnesandNoble.com
Open this book to get a glimpse into a day in the life of Olivia, a small piglet with a big personality. Whether it's getting dressed in the morning, going to the beach or the art museum, creating a masterpiece, or playing with her little brother Olivia does everything with passion and energy. Most of all, Olivia is very good at wearing people out, especially herself!
Falconer's spare text beautifully captures the spirit and outspoken style of Olivia. Written in third person present tense, most of the book describes Olivia's very full days in short and humorous sentences. These sentences are punctuated dramatically by short bits of dialogue and phrases such as, "Time out." Falconer has a background in scenic and costume design and in many ways the illustrations resemble design concept drawings. The charcoal and gouache drawings pop out against the clean white pages. The illustrations are almost entirely done in gray-scale with clothing and highlighted items in red.
Wear a red, white, and black outfit when you read this book. Follow up by making your own
pig ear headbands
. Try some
paper cup pigs
. You can make this craft faster by buying pink cups or pre-wrapping the cups. Nick Jr. has a
printable Olivia paper doll
that comes with pages of outfits (although I personally think that making the your own clothes is the best part of paper dolls).
If you don't mind getting messy, pull out some red, black, and grey paint and let kids create their own Pollock-like masterpiece like Olivia does in the book. Make sure you remind kids that this is a great craft to do on paper (not on the walls!).
Olivia is such a spunky and unique individual it's no surprise that there are several more books in the
Olivia the Pig series
. Check out the
official Olivia the Pig website
for online games, activities, interviews with the author, printables, and other fun stuff.
-Amy