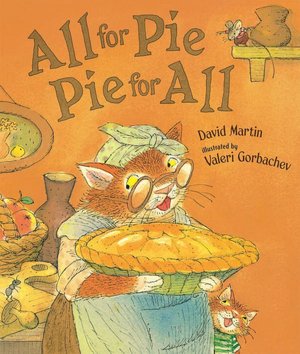 Image from BarnesandNoble.com
One day Grandma Cat makes an apple pie that just seems to keep on giving. The cat family eats five pieces, leaving one piece on the table. The mice family divides that piece into six smaller pieces. They eat five and leave one on the table. Finally, a family of ants appears and they further divide that small piece into six crumbs and every single one is eaten. It's a good thing Grandma decides to bake another pie and this time all the kids, feline, mouse, and insect, help out.
Martin's text is brief and repetitive, which will help kids anticipate the next part of the story. Martin does well by using the rule of three. For instance, each time the pie is eaten, Martin lists out each of the characters and what they ate. Gorbachev's signature watercolor and ink style is pitch perfect for this story. Browns and golds are used to create a warm, cozy atmosphere and old-fashioned light fixtures, kitchenware, and furniture are used to create a turn of the century look. Make sure to take a look at the endpapers, which show Brother Mouse and Sister Mouse helping to make pie in Grandma Cat's kitchen.
Use this for a storytime about apples or pies and pair it with
The Apple Pie That Papa Baked
. Try rhymes like
Apple Tree
and the call and response rhyme,
Oh My, I Want a Piece of Pie
. Although the story doesn't mention a specific holiday or season, this book is also a great addition to an autumn, Thanksgiving, Christmas (or any other holiday that involves pie) storytime.
This would be a great story to tell with a flannelboard. Start with a large circle (precut into pieces, smaller pieces, and crumbs) and take away a piece each time it is mentioned in the text. If you have upper elementary school aged kids, this is a great time to talk about fractions. The pie is first cut into six pieces (1/6ths), and then one piece is further divided (1/36ths) and divided again (1/216ths). Draw this out on a board, use the flannelboard, or a thick piece of paper so that the kids have tangible pieces to work with. Better yet, bring in a pie and divide it as you read the story.
You can also have kids make their own pieces to cut up into different fractions. Try Teach Preschool's
paper blueberry pie
or a
paper plate apple pie
, as posted on the Off the Shelf blog. For younger kids, try cutting or drawing lines to cut the pie into easier to understand fractions, like halves and quarters.
-Amy