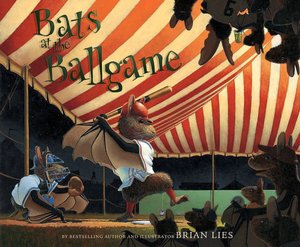 Image from BarnesandNoble.com
Night is falling and the air crackles with excitement. It's time for the annual bat baseball game! For years this bat team has been defeated by the same rival team, but this year will be different. The grounds crew preps the ground and the national anthem is sung. Soon the game is in full swing, but the innings pass and the score remains at 0-0. Will the bat's team win or will they be beaten once again by their rivals? Grab a mothdog and some Cricket Jacks and find out!
Lies' rhyming text and evocative imagery brings the bats baseball game to life. The sights, sounds, and smells of the sport are brought to the forefront as the suspenseful story plays out. The vocabulary of baseball terms and advanced words, such as collide, ricochets, and refuge, make this a book for elementary aged kids and up. The acrylic illustrations are detailed and glossy. Lies makes good use of light and shadow, appropriate for a book about nocturnal animals. In addition, the bats are of a variety of species, as evidenced by differing ear, nose, and wing shapes.
Use this for a baseball or sports storytime for elementary school aged children. Try pairing it with
Roasted Peanuts
and finish by singing
Take Me Out to the Ball Game
. If your kids are not very familiar with baseball, draw a baseball diamond on the board to show bats on base, etc. Take the time to explain (before/during/after) the baseball terminology in the text.
You could also use this book for a Halloween storytime or a storytime about nocturnal animals (try pairing it with the humorous
Diary of a Wombat
).
If it's autumn, you should be able to find mini pumpkins for a cheap price at the grocery store. Try making them into
pumpkin bats
. If pumpkins can't be found, substitute papier-mâché balls. You could also make a
bat mobile
. When in doubt, break out those paper lunch bags and make some
bat puppets
.
There are some great baseball crafts, too. Try a
bat and ball bookmark
or this
baseball mobile
. You could even combine the bat and baseball mobile to create a Bats at the Ballgame Mobile. I suggest making the baseballs smaller to balance with the size of the bats.
You could also talk about homonyms, starting the discussion with the two uses of the word "bat" in this book. What other homonyms can the kids think of? Can they write a story using as many homonym pairs as possible?
-Amy