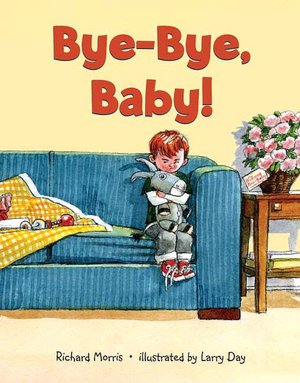 Image from BarnesandNoble.com
Felix's mother has a baby and now Felix is a big brother. He's not happy about it. He tells his best friend, his stuffed donkey Poncho, "This isn't working out, I think we should take her back." But it doesn't work; Felix can't get rid of his new sister. One day his family visits the zoo and Felix thinks of all the ways the animals could help him with his problem; the elephant could sit on his sister and the hippo with the giant mouth could eat her. In fact, Felix loves the zoo so much he doesn't want to leave. All the way home he cries and his parents can't get him to stop, but then his sister picks up Poncho and puts it in Felix's lap. Felix knows that Poncho will always be his best friend, but maybe this new sister isn't so bad after all.
Some books about new babies model good behavior for older siblings (such as
Lola Reads to Leo
), but this book shows kids that they aren't alone in needing time to adjust to a new sibling. Morris' text is brief and action-oriented. Nearly all the dialogue is Felix talking with Poncho, a wonderful concept that allows kids to hear Felix's thoughts. The illustrations, pen and ink, watercolor and gouache on watercolor paper, fill the entire book from cover to cover. Animals and people are anatomically correct and rendered in realistic colors, yet the illustrations retain a sketchy, loose feel. Day deftly captures the movements and moods of toddlers and babies in a way that is charming, but never precious or sugary.
Pair this book with other sibling stories, such as
Another Brother
,
Julius Baby of the World
, or
Big Sister, Little Sister.
Follow up with crafts that allow older siblings to prepare for younger siblings. Have them make a book that introduces the baby to their world. Paste in pictures of family and friends and help them write a sentence or two about each person. It can be an activity they enjoy doing together, where they live, or something they admire about them. Also, check out the printable
"I'm a Big Sister/Brother" crowns
published by Nick, Jr.
I also found a
thought provoking blog post by Morris
about the challenge of writing picture books because of the need to keep the story under 1,000 words (less for books geared toward babies or toddlers). It's a quick read and it will have you running to your bookshelf to count the words in your favorite picture book.
-Amy