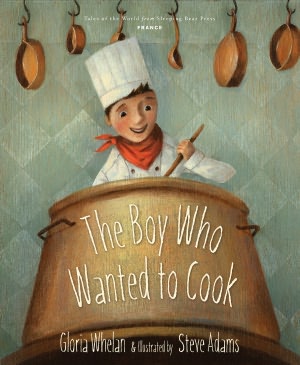 Image from BarnesandNoble.com
Pierre lives with his mother and father in the south of France near the River Tarn. His parents tell him to go out and play, but Pierre wants to learn to cook so he can become a great chef like his father. One day while Pierre is roaming the countryside, dreaming of the delicious meals he will cook, he gives directions to a food inspector from a very famous company that gives stars to restaurants. Pierre knows that there are strict rules forbidding restaurants from knowing the identity of the inspector. Should Pierre tell his parents? What will the inspector think of the restaurants' signature Boeuf à La Mode? What will happen when Pierre slips some mushrooms into the stew? And most importantly, will Pierre ever be allowed to cook?
The text and pacing of this book are gentle, which fits the country setting and the introspective nature of young Pierre. The text is peppered with French words and phrases, which are defined in a glossary at the back of the book. The afterword discusses the importance of cooking and eating in French culture. The length of the text and the complexity of the plot make this a great book to share with elementary or even middle school children. The illustrations appear to be oil or acrylic paint on wood panel, reminiscent of European frescos (albeit on wood instead of plaster). The copyright page includes a map of France that notes the locations of Paris and the restaurant on the Tarn River. The recipe for Boeuf à La Mode (Beef Stew) is printed on the back cover.
Use this book as part of an Iron Chef style program. There are programs for teens and tweens that utilize this idea and it would be fun to do a simplified version with younger kids. I would suggest having kids make just one dish and having them work in pairs. You will probably want to cover the floor in plastic because it can get messy. Make sure to check for food allergies. For more ideas, check out the
Green Been Teen Queen Blog
or the
Creative Library Programs Blog
, to name but a few. I also like this
crepe making program
presented by the Grand Island Public Library in Nebraska.
Patricia Pierce has written a
teacher's guide
for Sleeping Bear Press that has a variety of worksheets and activities. I especially like the instructions for making chef hats and aprons out of plastic bags.
-Amy