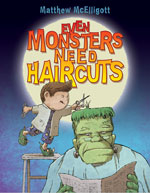 Image from MatthewMcElligott.com
Once a month on the night of the full moon, the monsters come to the barbershop to get their hair cut. The barbers son, a young boy with a swoop of brown hair, makes sure the shop is open and stocked with all the necessities: rotting tonic, stink wax, and the ever important shamp-
ewww.
All night long he cuts hair for monsters of all kinds - short, tall, three-headed, five-eye-balled, eight-legged and every kind of monster in between. At the end of the night the monsters help the boy restore the barbershop to order and they all slip away as the sun rises. Soon the boys father, none the wiser, will be arriving at the barbershop to begin his day of work.
Written from the boy's point of view, the text is simple, yet humorous. McElligott's word play is fun and easily understandable for kids. The detailed illustrations combine cartoon-like characters with setting specific props and set dressings. Several pages feature the boy cutting the hair of monster after monster; these are my favorite because the hairdo's are so creative and the facial expressions add a humorous touch of their own. Kids will especially enjoy finding all the hidden monsters when they run in terror of the "human" customer.
This book is a great addition for a Halloween or monster storytime for youngsters who are easily scared. The boy in the book is never afraid of the monsters and they never give him any reason to be. Try pairing it with books like,
If You're a Monster and You Know It
,
Go Away Big Green Monster
, or
HaveYou Ever Seen A Sneep?

-Amy