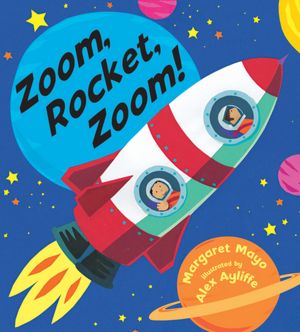 Image from BarnesandNoble.com
It's all action all the time in this ode to rockets, astronauts, and outer space. The book begins with astronauts "zoom, zoom, zooming" into space and follows their adventures as they navigate their space craft, collect moon rocks, and repair their space station. The book finishes by taking a quick look at several pieces of space technology, including, robot spacecraft, robot rovers, and space satellites.
The text of this book is best read aloud. Each two page spread focuses on the actions of the astronauts or a piece of technology. These actions are emphasized with repetition, "Robot spacecraft are good at speed, speed, speeding," as well as onomatopoeias, such as "pow!" and "Whoo-oom!" The cut paper collage illustrations are detailed and infused with saturated colors. Bright blues, fiery oranges and reds, and eye catching pinks fill the pages from cover to cover. The focus on technology filled illustrations and action, rather than story is sure to attract the attention of many young boys.
Create your own
recycled rockets
from plastic bottles, lids, and cardboard. I also like this
rocket name craft
from Mrs. Karen's (scroll about half way down the page), which uses the letters of each child's name to create a paper rocket.
You can also turn a cardboard box or a roomful of chairs into a rocket, a great way to encourage imaginative play. Have the kids put on their astronaut suits (pull out those winter hats, gloves, slippers). You can make helmets out of cardboard boxes. If your kids are really into it or you're looking for a Halloween costume, get fancy and try some of these costume ideas. I like
Family Fun's
use of a plastic bucket for a helmet and
TLC
wins my vote for Big Use of Foil. Also check out these easy to make
Super Shiny Space Leggings
(also helpful if you're making a robot or Tin Man costume).
-Amy