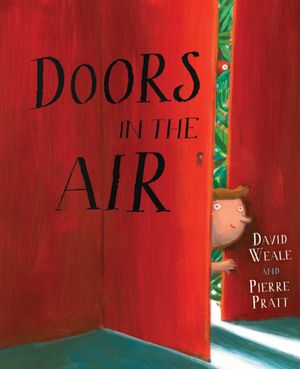 Image from BarnesandNoble.com
The little boy in this book knows the ins and outs of his house. He knows the bedrooms and the knick-knacks, the furniture and the closets, but best of all are the doors. Doors that allow him to go in and out. Doors that open wide and let him pass through to a magical world of imagination. There's a door for every mood or thought or idea. He never knows what will be on the other side of the door, but he can't wait to find out.
"You are indeed
A silver key
So all you need to do
Is open a door
To a shimmering shore
And go sailing right on through."
Weale's inspiring rhyming text harmonizes perfectly with Pratt's surreal painted illustrations. The text, written from the young boy's point of view, has a poetic flow to it that pushes the book along at a nice clip-clop. The illustrations begins grounded in the real world as the boy speaks of his house and the things inside, but then the boy begins going through doors and the illustrations become more fanciful and imaginative. The boy is accompanied by a motley crew of animals (a tiny elephant, a flying fish, and a long-necked red bird) on his journey that adds to the fantastical atmosphere of the imaginary world that flows from jungle to desert to island.
Follow up by having the kids make doors of their own. Glue a greeting card to a larger piece of paper and draw or glue on a circle to make a door knob. You can also add windows or rectangles to embellish your door. Open the door and draw the world you imagine is on the other side. Another variation is to make your
door out of decorated popsicle sticks
. You could also make an entire
house full of doors
, as suggested by the Little Woodlanders Blog.
-Amy