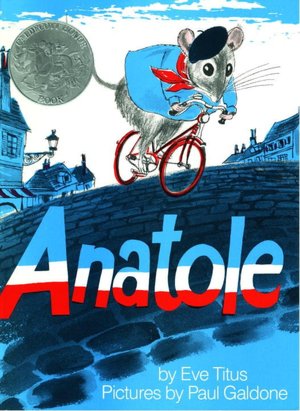 Image from BarnesandNoble.com
Anatole lived happily and contentedly in a small mouse village near Paris, France, with his loving wife, Doucette, and their six children. Until one night when he's foraging for food from the human houses. There he hears the humans complain about dirty mice that steal food, "They are a disgrace to all France." Anatole is greatly upset by this and yearns to be able to give something back to the humans from which he steals food. So he types up signs that say, "Extra 'Specially Good," "Good," "No Good," puts them in his briefcase and slips into the Duval Cheese Factory. He tastes all the cheese, leaving his signs and notes for the cheese-makers, "add a little vinegar" or "needs more grated onion." What will happen when Monsieur Duval finds Anatole's notes? What will happen when the cheese-makers follow Anatoles suggestions? Will Anatole's secret identity be revealed?
Originally published in 1956, this Caldecott Honor book is charming and unique. The text, full of the sights and smells of Anatole's Paris, is balanced between dialogue and narrative. The charcoal, pen, and ink illustrations are pure 1950's. Galdone cleverly uses the colors of the French flag – blue, and red – to highlight elements in the black and grey illustrations. Although elements in the text and illustrations, such as the Anatole's typewriter, date this book I don't think this takes away from the characters or the story.
Use this book for a storytime that focuses on narrative skills, which means being able to tell a story and describe things. Titus' text makes frequent mention of time – later that night, the next morning, etc. – point that out as you read the story. Being able to put events in the proper sequence is part of narrative skills, so ask kids to retell the story back to you.
If you love Anatole, keep your eyes open for
other books in this series
about the happiest, most contented mouse in all of France. Some of the books are currently out of print, but my mom has been able to find a few in used bookstores recently (thanks, Mom!).
-Amy