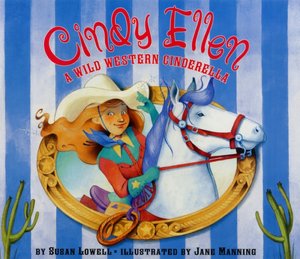 Image from BarnesandNoble.com
Yee-haw! Grab your Stetson and slip on your spurs for this Wild West retelling of the classic Cinderella story. When her father marries his second wife, a woman "meaner than a rattlesnake," things get tough for sweet and pretty Cindy Ellen. Cindy Ellen does all the work on the ranch, but her life changes on the day of the big rodeo when her fairy godmother swoops down and shoots her magic golden pistol into the air. This not only spruces Cindy Ellen up, but fills her heart with strength, happiness and a good dose of gumption as well. At the rodeo, Cindy Ellen wins the roping and riding events, and she returns the following night for a square dance. And, of course, she and the handsome Joe Prince fall in love. Instead of a glass slipper, Cindy Ellen leaves behind one of her diamond spurs as she flees. But a happy ending is in store for this vivacious couple and they live "happily ever after in a ranch house full of love and rodeo trophies."
This book won The Western Writers of America Storyteller Award for best illustrated children's book and rightfully so. The text just begs for a spirited read aloud session. Lowell's text is full of colorful Wild West expressions, dialogue, and sound effects. The length of the text makes this book suitable for an elementary or older crowd. The illustrations use a color palate of Southwestern reds, purple-blues, yellows, and teal-y greens. The Western setting is integral to the plot and it infuses the illustrations as well with red dirt, green cacti, and stunning blue skies. Manning's characters, like the text, are slightly exaggerated from the sour step-sisters to the slightly batty gun-toting fairy godmother. I also love the hair Manning has created for her characters, floating and curling some of the hairdos seem to have a life of their own!
Cinderella is a story that can be found in many cultures around the world, so it's a wonderful story to compare and contrast. Check out the
list of picture book and full length versions
of the story on The Children's Literature Web Guide.
You might start by reading a more traditional version of the story or have the kids help you tell the story. Then read Cindy Ellen and other Cinderella stories (see also my review of
The Talking Eggs
). Make a chart that includes columns and rows to record information such as what kind item (footwear or otherwise) lost at the ball, different names for Cinderella, the setting, and other elements of the story.
I love Rebecca Haden's idea of using the Cinderella story (any version) and the song,
10 Minutes Ago
, from the Rogers and Hammerstein musical version of Cinderella, for a
lesson on telling time
. She prints off clocks and has kids sort them into Midnight and Not Midnight piles.
Check out the
Trumpet Club's website
for ideas and activities regarding the discussion of the Wild West expressions used in this book.
I'd love to turn this book into a reader's theater script for kids or for teens to perform for kids. I wasn't able to find a script, but if anyone finds or writes one, please leave a comment with a link.
-Amy