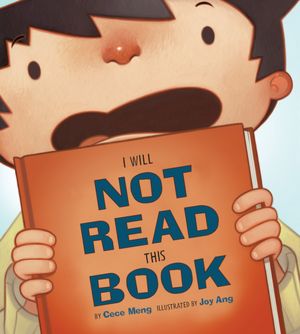 Image from BarnesandNoble.com
The young boy in this book is not keen on reading the book in the title. He's not very good at it and there will be words he doesn't know. He also has a (very long) list of things you could do to him and he still wouldn't read this book. You could hang him upside down by his toe and he wouldn't read it. And even if you dangled him over a cliff while it was raining and there were sharks and dragons, he wouldn't read this book. His list is dramatic and never-ending; will this stubborn little boy ever read this book?
Meng's text, written from the boy's perspective, reads like a child of 6 years old talks. Child logic is strong stuff and this boy has it in spades. As the book progresses the boy adds items to his list and the cumulative pattern is fun to read aloud. The digital illustrations feature a dynamic boy with a rectangular head and mustard yellow pajamas. The scenarios in the boy's imagination come to life on the page in vivid detail. Ang's use of white space balances the busy images from the boy's imagination. The illustrations are tightly drawn and utilize light, shadow, and composition deftly.
Play a "No" version of Simon Says. In other words, if Simon says not to do something then you have to do it and vice versa. This helps kids work on their listening skills.
Have kids make a
book
and then write/illustrate all the reasons they wouldn't read the book (oh, the irony). Alternatively, they could make a poster for this book and write and illustrate all the reasons why you should or shouldn't read it.
-Amy