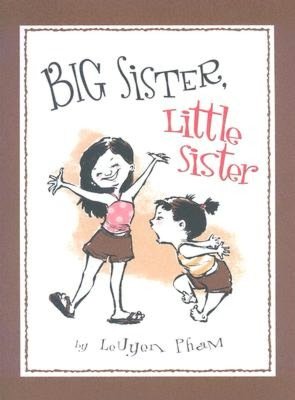 Image from BarnesandNoble.com
This book shows the complex, antagonizing, annoying, and loving aspects of the relationship between two sisters. The differences between the sisters are presented in a spirited narrative by the Little Sister,
"The Big Sister thinks she's always right.
I'm the Little Sister.
I know I'm right."
Although they irritate and exasperate one another, at the end of the day they know that they will always be there for one another because they are the Big Sister and the Little Sister.
Pham wrote this book for her older sister and it is evident that she has a wonderful understanding of sibling relationships. The text is simple and follows a set pattern. Big Sister is described first on the left side of the page, followed by the description of the Little Sisters (usually opposite) behavior or outcome. For instance, the Big Sister gets all the new clothes, while the Little Sister has to wear hand-me-downs. The illustrations provide insight into Little Sisters statements. Although the book tells us how dissimilar the sisters are, the pictures tell a slightly different story. They show sisters who may not always get along, but who love to spend time together. According to the copyright page, the illustrations were created with Japanese brush pen and ink and then color was added digitally. The characters are full of spirit and spunk and the sparing use of color is reminiscent of hand colored black and white photos.
It would also be a quirky addition to an opposite themed storytime for kindergarteners. You could pair it with other books that address more complex concepts of opposites, like
A Porcupine Named Fluffy
or
Shadow.
Follow up by having kids make a list of things they do well and things their siblings do well. You can turn the lists into Venn diagrams for a more visual representation. The idea is to focus on the positives, not the negatives. So don't let kids write down things like, "My brother can't tie his shoes." Have kids draw pictures of their siblings to go along with their list.
Pham's website
includes a section about this book. Check it out for pictures of Pham and her big sister, as well as printable paper dolls of Big Sister and Little Sister.
-Amy