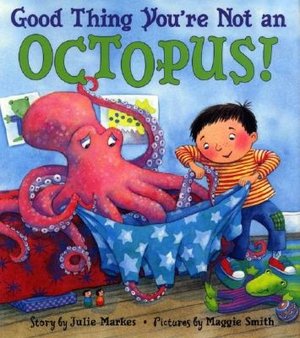 Image from BarnesandNoble.com
What's that you say? You don't like to get dressed in the morning? Well, it's a good thing you're not an octopus because they have 8 legs which makes putting on pants much more difficult than the 2 legs you have. The round-faced boy in this book has a list of activities he doesn't like, from riding in his car seat to taking a bath, putting on his shoes to brushing his teeth. Luckily, the unnamed narrator is able to find the bright side to each activity, "If you were a shark you could have two hundred teeth to brush!" At the end of the day, "It's a good thing you're YOU!"
The activities in the book begin with the boy getting out of bed in the morning and end as he puts his pajamas on for bed at night. The simple and short text quickly establishes a pattern and the comparisons are easy for kids to understand. The painterly illustrations are colorful and kids will giggle at the pages that show the animals doing human activities. There's something comical about a shark standing at the sink brushing his teeth.
This short book is great for toddlers, who will be able to identify with the things the boy has to do in the story. Keep the kids engaged by having them do a different gesture for each activity. The last pages of the book recap all the activities, so you can do them all in order once again.
For more ideas, check out the suggested activities in this PDF from
Raising Readers
.
-Amy