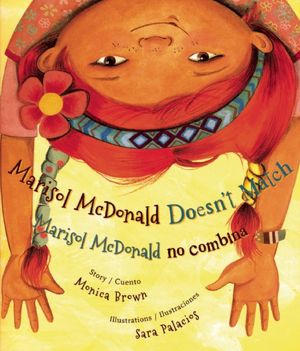 Image from BarnesandNoble.com
Marisol McDonald doesn't match and she likes that about herself. Her skin is brown like her Peruvian-American mother and her hair is red like her Scottish-American father. At dinner her family speaks Spanish and English together and Marisol eats her favorite food, peanut butter and jelly burritos. She likes to mix things together, like polka-dots and stripes, cursive and print. At recess she doesn't see why she has to play pirates or soccer, can't they be soccer-playing pirates? Everyone says, "You don't match! / ¡No combinas!" But one day, Marisol's friend bets her that she couldn't match even if she tried. Can Marisol do it? And, more importantly, how will it make her feel?
Multiculturalism and diversity are explored and celebrated in this Pura Belpré Illustrator Honor book with a spunky and unique protagonist. The text is presented twice on each page first in English and then in Spanish. Readers can choose to read one language or switch between the two, either way the story remains solid and compelling. Like the story, the illustrations are playful and depict people of many races and colors without becoming didactic or trite. I especially like that the mixed-media illustrations use Spanish language print as one of the collage elements.
Share this book in either language for a storytime about multiculturalism or diversity. If you feel confident in your Spanish speaking skills, try reading parts of it in Spanish. The Spanish has not been simplified in anyway, so I would not recommend it for those with just a basic grasp of the language. Depending on your audience, you may need to reread those parts again in English.
Check out
Brown's website
for her other books, many of which are bilingual, integrate Spanish words, and/or celebrate multiculturalism. Brown's website also has a great
activity kit
. I especially like the art activity because it is easy to do with a large group and minimal supplies.
Have a No Matching Day where everyone dresses in clothes that don't match, like Marisol in the book. Pair this book with
Ella Sarah Gets Dressed
. You could also follow up with peanut butter and jelly burritos (check for allergies first!).
I couldn't find a reader's theatre script for this book, but it would be especially fun to use with a bilingual group. I would also love to see a bilingual performance of this story done by a children's theatre.
-Amy