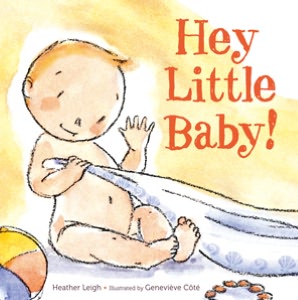 Image from BarnesandNoble.com
A new baby boy has arrived in the world and his parents are overjoyed. They welcome him to the world and wonder what he grow up to do and be. As the baby discovers his hands, feet, mouth, nose, and voice his parents imagine the activities he might do when he's older.
"Hey little baby,
You've arrived in our world.
Who will you be in this world?
Who will you be in the marvelous world?
We can't wait to find out!"
Leigh's text is simple and broad, leaving the details and atmosphere to Côté. The mixed media illustrations are full of sunlit happiness. Digital patterns and textures are combined with watercolor washes and sketchy charcoal lines to create a warm and loving environment. The round headed, chubby limbed baby is simply adorable. The book begin with sunrise and ends at twilight, providing a through line to this plotless book. Readers will also notice that the boy grows older in each of his parents' imaginings about his future; he starts as a toddler and grows to be 8 or 9 years old.
The short text and colorful pictures make this a wonderful book for a lapsit storytime. As the baby in the story discovers each new body part, have parents move or touch their baby's corresponding body part. If your lapsit are themed, this one fits nicely into a storytime about the human body. You could pair it with
All of Baby Nose to Toes.
Try bounces and rhymes, such as
Hello Toes
,
Mama's Little Baby
, and
What'll I Do with the Baby-O?
This book is a great baby shower gift. If you want to go all out, put it in a basket with baby shampoo, soap, and other bath toys.
-Amy