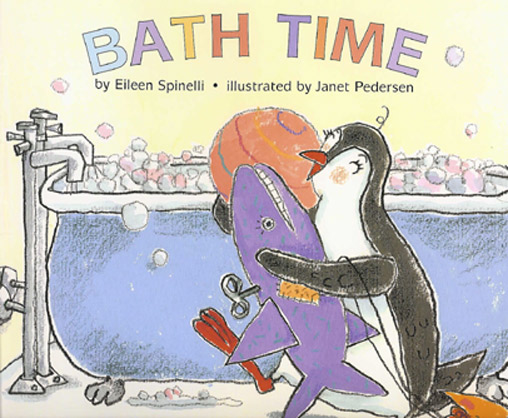 Image from EileenSpinelli.com
This little penguin loves bath time, so when mother turns on the bath water the penguin can't wait to jump in the tub! But first, in go the penguin's favorite boat and also a plastic porpoise and don't forget the wind-up rubber shark or the inflatable inner tube snake! Next, add a touch of pirate treasure and some sudsy bubble bath, of course. Finally, the soap, sponge, and wash cloth. But what will happen when this penguin realizes there's not enough room in the tub for anything else, not even the tiniest penguin?
Spinelli's brief rhyming text is full of a youthful joy and excitement for bath time. The font is large and stands out against the illustrations nicely, making it easy to read upside down or sideways. The charcoal pencil and watercolor illustrations feature an expressive and very excitable little penguin (could be a boy or girl). The textured charcoal lines paired with bright pastels and muted tones create a warm and cozy environment for this penguin family.
Ask kids what kind of toys they take in the bath. Do they bathe with bubbles or without? As you read the book and the penguin adds more and more toys, ask the kids what they think will happen when the penguin tries to get in the tub.
You could also use this book as part of a penguin themed storytime. There's a never ending list of penguin picture book titles. Here's a list of the ones I've reviewed so far:
Penguin Picture Books
.
Turn bath time into a
game of fishing
, perfect for toddlers. Cut sea creatures out of craft foam and give the kids a small aquarium net to catch the fish. If you're at home, try this activity during bath time. If you're elsewhere, fill up a kiddie pool so several children can fish at the same time.
-Amy