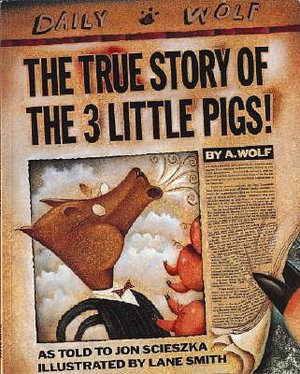 Image from BarnesandNoble.com
Everyone has heard the story of the 3 little pigs from the pig's point of view, but what about the wolf's perspective? What if the wolf, in this case Alexander T. Wolf, was just trying to borrow a cup of sugar from his neighbor, a pig who happened to live in a straw house? And what if Al also had a cold and had accidentally huffed and snuffed and blown the house down? Take a look at the situation from a different perspective in this humorous and clever spin on the classic fairy tale.
Smith's illustrations are framed by the white border of each page, but like the story, the characters just can't be contained by lines and they will occasionally slip over the boundary. The illustrations use a palate of muddy browns and grays and a few collage elements here and there to create a textured environment. The hairs on the pigs' chinny chin chins have never been so vivid and prickly. The text is conversational and filled with ironic humor that kids and adults alike will appreciate.
Before you read the story, make sure everyone knows the classic Three Little Pigs story. You can tell it with or without a book or even have the kids tell it to you.
After you read the book, ask the kids if they think Al was framed or if he's really guilty. Why or why not? You could divide the group into two and have a mock debate or even a mock trial with witnesses, lawyers, a judge, and a jury.
Perform this story using this
reader's theater script
or by having the kids develop a script of their own (Clicking the link will automatically download a PDF to your computer).
-Amy