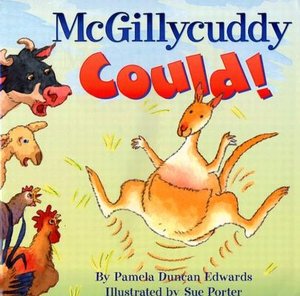 Image from BarnesandNoble.com
The animals on the farm have never seen a kangaroo until McGillycuddy arrives. Curious about the newcomer, the farm animals ask McGillycuddy what she can do. Can she make milk like the cow? Lay eggs like the hen? Grow wool like the sheep? She tries with all her might, but McGillycuddy couldn't. She can hop, jump, bounce, and kick, but the other animals aren't impressed at all. McGillycuddy feels horrible and is about to leave the farm, but who will save the duck from becoming the fox's supper? McGillycuddy could!
This simple story, reminiscent of folktales such as, The Little Red Hen and Chicken Little, emphasizes the moral that all talents are useful. The repetitive text is mostly dialogue. The illustrations are brightly colored and full of movement. Animals are easy to recognize and bouncy McGillycuddy is an expressive and energetic protagonist.
Talk about the synonyms for "hop" used in the book. Ask the kids to think of some synonyms for other verbs like "walk" or "sleep."
Get kids up and moving by encouraging them to hop, jump, bounce, and kick every time McGillycuddy does in the book. After you read the book you could do other activities that McGillycuddy would enjoy, such as playing hopscotch or jumping rope.
-Amy