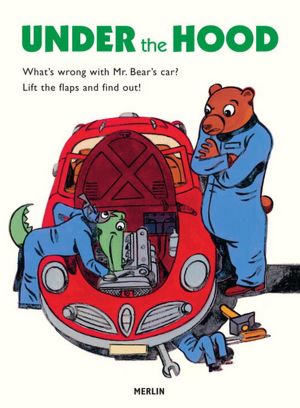 Image from BarnesandNoble.com
Bear's car has broken down and it's in the garage to be fixed. Bear opens his garage ready to fix his car. But where are his friends? Lift the flaps to find Bear's friends, Crocodile, Mouse, and Bird, and to figure out what's wrong with the car. Once you help Bear find all the items for his emergency toolbox, it's time to test drive the car. Bear's car may not make it home without a little tow truck help, but that's ok he's got some great friends to help him out.
This large book is best enjoyed by a small group, so that everyone can have a turn opening flaps. Speaking of flaps, this book is full of them. Often there are flaps hidden under the flaps! The retro illustrations are bright colored and boldly outlined in thick black paint. Although there's really no plot, the simple text keeps readers engaged. Questions prompt the reader to explore the page, such as "Where are my friends? and "What's under the hood?" Often the items or characters revealed behind a flap are humorous and silly and somehow Mouse keeps falling asleep in the strangest places!
Make some
toilet paper roll racers
or bring in some toy cars and set up a mechanics garage. Ask kids to describe the different cars (color, type, size, etc.), tell you what's wrong with the car and then "fix" it. You can also lay masking or painter's tape on the carpet to make a road for the cars to drive along.
This is a great book for a child to share with an adult. Kids will quickly memorize the locations of the flaps and even if they can't read the text, they'll be able to make up words that go along with the pictures quite easily.
A side note: I found it a bit difficult to determine the author of this book. The cover says Merlin, the copyright page says Albin Michel Jeunesse, and Candlewick Press lists the author as Christophe Merlin on their website. If you're looking for this book at your local library or bookstore, I would start by looking for Merlin and if that doesn't work, try Jeunesse.
-Amy