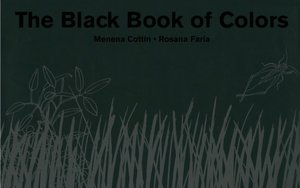 Image from BarnesandNoble.com
Can you imagine what it is like to be blind? This delicate book explores colors from the perspective of Thomas, a blind boy. Thomas describes colors as he experiences them – he can hear, small, touch, and taste them.
Originally written in Spanish and published in Mexico, this book won the New Horizons prize at the Bologna Children's Book Fair in 2007. The simple, but evocative text is printed twice, first in Braille at the top of the page and then in a white font at the bottom of the page.
The entire book is completely black and illustrations are raised, embossed images that are meant to be felt instead of seen. Each illustration is a close up on the objects Thomas describes in the text; there are no people in the images. Turn to the back of the book to see/feel the Braille alphabet. Can you feel the hidden image in the final copyright page?
After reading some reviews, I found that some people have commented that the Braille is not raised enough for anyone, sighted or blind, to read. With that in mind, you might consider doing the following activities with better examples of Braille. However, I feel the raised illustrations are still a wonderful resource.
This book is small and should be touched throughout the reading, so it is best to share this book with a tiny group or pass around multiple copies for a larger group. Have young children keep their eyes closed for the entire reading. If you are reading this with an older audience you might want to consider blindfolding the group, so they don't peek. Read the text out loud while they feel each illustration. Can they guess what it is?
This is a wonderful book to share with middle and high school students. Talk about how much we rely on our sight and how much we take it for granted. Can they describe an object or a memory without using sight descriptors? Have them pair up and blindfold one member of each pair. First, have them help each other to feel and learn the Braille letters. Then see if they can decipher a line of text from a Braille book. Switch partners and blindfolds and repeat the exercise. Afterwards talk about how they felt, what was easy, what was difficult? Check out this simple, kid-friendly
Braille guide
written by the American Foundation for the Blind.
This is a great book to use for a kindergarten or elementary age storytime or unit about the 5 senses. Have the kids help you write the senses on a whiteboard and have them define each one. After you read the book, ask them to point out examples from the book for each of the senses (minus sight). Check out the
BrailleSC website
for more activities to teach sighted children about blindness. To continue exploring touch, follow up with a
texture rubbing craft
.
You could also use this book as part of a color themed storytime. Following up by asking kids to write a sentence or two describing their favorite color without using their sense of sight.
Check out
Brain Pickings
, an online newsletter, for beautiful photographs of the illustrations.
-Amy