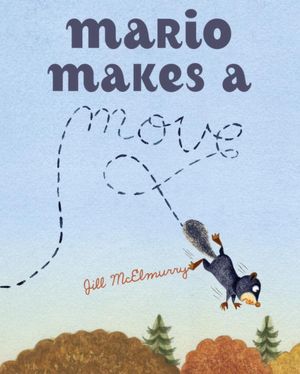 Image from BarnesandNoble.com
Mario likes to invent amazing moves, like the Super Looper, the Rocket to Mars, the Crazy Wave. As he soars through the air everyone exclaims, "Artistic!" "Astonishing!" "Artistic!" Everyone except his friend Isabelle. She says, "Nice." What!? Mario just can't handle nice, he knows his talent is unique and amazing. But when he challenges Isabelle, he finds she can perform his moves with equal agility. Not only that, but Isabelle shows him that he's not the only one with moves; everyone in the forest can have a move. Mario doesn't feel so amazing anymore. What's a squirrel to do?
The text is mostly dialogue between the two friends and printed in large font for easy reading and following along. The tone is conversational and humorous and McElmurry manages to incorporate some great vocabulary words. The illustrations use an autumn palate of browns, oranges, and yellows, set against the faded gray-blue almost-winter sky. The squirrels are full of energy and personality. Mario may be a little egotistical, but smart and savvy Isabelle keeps him in check with an amused flick of her bushy tail. All the "moves" in the book include action lines and there are several "charts" on how to execute moves. The back of the book includes 20 facts about squirrels.
You could also use it for an autumn themed storytime, pairing it with the book,
Red Leaf, Yellow Leaf
. If there's an oak tree nearby, bring in some leaves and acorns or take the kids on an acorn hunt. See if the kids notice the acorns and oak leaves in the illustrations. Use the acorns to practice counting and basic math skills.
When you read the book, get kids up and moving by trying out a few of Mario's signature moves.If you have a particularly wiggly group, turn on some music and let them show off their amazing moves.
Isabelle loves to draw on graph paper, so bring some out for the kids to draw on. You can color individual squares to create a picture or design. You can also have the kids design and chart their own amazing move.
-Amy