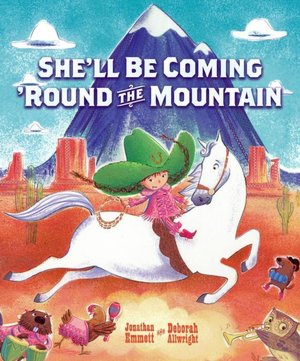 Image from BarnesandNoble.com
Based on the song of the same name, this book gets readers ready for when she, in this case a small girl in pink pajamas and ten gallon cowboy hat, comes around the mountain and into town. Each verse of the song describes how she will get to town, how she'll dress, and what she'll do once she gets there. By the time she arrives on the last page of the book, readers will greet her with a hearty,
"Hi, Babe!
Slurp-slurp!
Bish-bosh!
Yee-Ha!
Squish-Splat!
Tee-Hee!
Whoa Back!
Toot-Toot!"
The rhyming text of the book fits perfectly with the song and is easy to sing/read. The cumulative sound of each verse is printed in a different font, making it pop from the page. The text travels all over the page, winding it's way around the illustrations, which are bright and colorful. The wide open Wild West landscape of mountains, cactus, buttes, and clapboard stores is populated by a cast of musical animals and children. Everyone in town is excited for the arrival of the girl and there's a festive atmosphere, complete with balloons and maracas, to the illustrations. The back of the book provides illustrations of movements to go with each sound.
There are several other books that use this folk song, but this is my favorite because of it's large size and lively illustrations. As usual, I'm push over for a singable book and this one is especially fun because of the movements that go along with it. If you're not familiar with the song, the endpapers provide simple sheet music. Some of the verses are downright silly (such as the one about her juggling jelly), but as long as you embrace the silliness, the kids will too.
Use this as part of a Wild West or Tall Tale storytime and pair it with
Fandango Stew
,
Thunder Rose
, and
Dust Devil
. It's a great book to read 2nd or 3rd in a storytime because it gets everyone up and moving.
Kids will probably want to play Wild West after reading this book, so follow up by making a cowboy
vest
or
hat
. If you have some bandanas, bring those in for the kids as well.
The
Scribble Street
website includes more information about the origins of the song, additional verses that were cut from the book, as well as a look at the illustrations.
-Amy