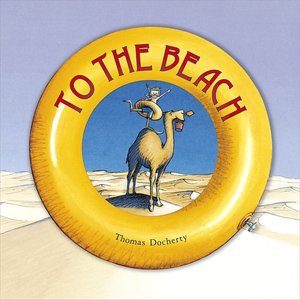 Image from BarnesandNoble.com
It's a rainy day, but this little boy is ready to go to the beach. He's got his goggles and snorkel, his flippers and bathing suit, his bucket and shovel, and of course, his big yellow inner tube. Looking out the window, he imagines what else he'd need to get to the beach. An airplane, a sailboat, a truck, a camel! After frolicking on the beach, he hops on a tanker, a helicopter, a bike, and a tractor and finally he's home. But where will he go next?
The watercolor, pen, and ink illustrations are the focal point of this sundrenched book. Each mode of transportation takes the boy into a new landscape from the lush green jungle forests to the icy plains of Antarctica. The boy always travels left to right propelling the reader forward to each page turn. The illustrations also give clues to the reader about the next mode of transportation. The text is minimal. After the boy begins his journey, most pages simply state the name of the transportation he's traveling on.
This is a wonderful book to use as a snappy wrap up at the end of storytime when kids have a shorter attention span because the plot is simple and short. Engage the group by having them act out movements, such as using your arms like the wings of an airplane, moving your legs like you're riding a bike, and bouncing up and down on a truck.
After you read the book, ask the kids what other kinds of transportation the boy could use to get to the beach. Extend this into a writing activity by having kids write and illustrate how they would get to the beach, the lake, the mountains, or another destination of their choice.
-Amy