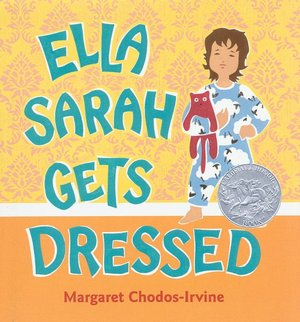 Image from BarnesandNoble.com
Ella Sarah knows exactly what she wants to wear this morning:
"My pink polka-dot pants,
my dress with orange-and-green flowers,
my purple-and-blue striped socks,
my yellow shoes,
and my red hat."
Unfortunately, the rest of Ella Sarah's family has other ideas. Her mother thinks the outfit is too dressy and suggests she wear a nice blue dress. Her father thinks she should wear her yellow T-shirt and white shorts. And her sister pulls out her old overalls. But Ella Sarah is adamant and so she puts on her colorful outfit. She thinks she looks just right and so do all her friends who arrive for a fancy pretend tea party.
The illustrations in this Caldecott Honor book are bright, created with silhouetted shapes and printed patterns. Vibrant colors and a variety of printmaking techniques are used to create Ella Sarah's world. Chodos-Irvine has clearly put a lot of thought into the layout of the illustrations. Sometimes the whole page is filled with a close up of Ella Sarah's face, while another page features a series of smaller illustrations that show Ella Sarah getting dressed. The text moves along quickly. The description of Ella Sarah's preferred outfit is frequently repeated, much like the chorus of a song.
I love Ella Sarah's unique sense of style and the way she solidly sticks with her choice of clothing. Although her family suggests other outfits, they allow Ella Sarah to make the final decision.
This is a great story to read with a
flannelboard
. Make felts pieces for each item of clothing Ella Sarah wants to wear. Each time you repeat the list in the story, point to the pieces on the felt board so the kids can repeat the list with you. When Ella Sarah finally puts her outfit on, you can put all the pieces together.
Follow up by making clothes from scrap paper, fabric, and notions for Ella Sarah paper dolls. If you use fabric, you may want to use cardboard to back the paper dolls to make them stiffer.
Have an Ella Sarah tea party. Put out dress up clothes for kids to choose an outfit or ask them to wear their favorite outfit to the party. Serve water or juice in colorful tea cups. You could make cookies with pink or for a healthier option celery sticks with peanut butter and raisin "polka-dots."
Scholastic has a short
lesson plan
, which also includes a PDF with reproducible drawings of Ella Sarah's clothes.
-Amy