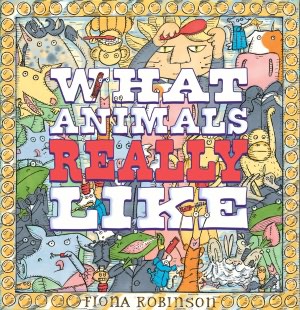 Image from BarnesandNoble.com
At the concert tonight the animals will be performing a new song composed and conducted by Mr. Hebert Timberteeth. The curtains open and the song starts out simply enough; lions that like to prowl, wolves that like to howl, pigeons that like to coo, and cows that like to dig. Wait, what? Cows that like to dig? Hebert can't believe his ears. One animal and then another and another
changes the lyrics to sing about what they really like to do. Finally, they convince Herbert to let them sing the song their way. Pretty soon the pages are full of ballet dancing pigeons, deep-sea diving horses, ping-pong playing kangaroos, and more. As the animals sing their thanks the curtains close and the audience cheers for the wonderful, new song written by Mr. Hebert Timberteeth.
The text begins with rhyming text, but just like the song, the text veers off into the unknown in a delightfully chaotic manner after the animals take over. Herbert, a beaver in a tuxedo, is a charming straight man against the offbeat animals. The pen, ink, and marker illustrations continue the tongue-in-cheek style of humor. Robinson's precisely drawn characters cavort across the pages, using every bit of space available. This is a concert, so the animals are dressed in evening clothes; it's hilarious to see the worms bowling in their bow ties and the warthogs parachuting in their pink puff-sleeved dresses. The book is cleverly designed with two sets of flap pages for the opening and closing of the stage curtains.
The book is all dialogue, which makes it a fun book to read aloud. I like to sing the lyrics of the song to some sort of tune (usually one made up on the spot) and I read Herbert's lines as dramatically and outrageously as possible. At one point, Herbert directly addresses the audience to ask if they would like to hear what the animals really like. Make sure to pause for the kids to shout, "Yes!"
Behind the silliness of the story, there's also a message about not making generalizing about individuals just because they belong to a group. Have kids make a list of activities they really like to do. They might be surprised to find other people in the group like to do the same activity, too.
Use this book with
Zoozical
for a storytime about musical performances by animals. Both books would be appropriate for a preschool or older group.You could also pair this book with
Giraffes Can't Dance
for a storytime about being yourself and dancing to the beat of your own drum.
Many of the male animals in the book wear bow ties, so follow up with a bow tie pasta or Farfalle craft. Draw animals and then glue the pasta on to make bow ties, hair bows, or dresses made of bows.
If you have a group of older kids try singing the
Orchestra Song
, also called the Instrument Song. You may recognize it from
You've Got Mail. I've found quite a few different versions of the lyrics, but the version from the movie is the one I know best.
-Amy